ERIKS completes £21 million infrastructure investment
12 December, 2022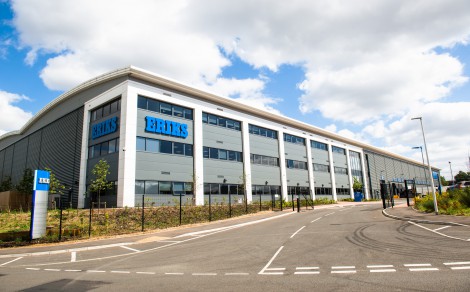 Specialised industrial products supplier ERIKS has completed a £21 million infrastructure investment, headlined by a state-ofthe-art fulfilment centre to substantially improve its product range along with the speed and accuracy of supply.
Following 18 months of development and testing, ERIKS' new Fulfilment Centre of Expertise (FCE) in Oldbury is now fully open and operational with its huge 11,000m2 warehouse space backed by one of the most advanced warehouse management systems anywhere in Europe.
It has 21 vertical lifts, more than 400m of high-speed conveyors, sophisticated scanning and weighing systems for every order and robust Industry 4.0 configured IT infrastructure with real-time monitoring.
While a large part of the £21 million investment has been pumped into the FCE, ERIKS has also spent millions of pounds updating its technical services offering, with significant improvements made to its Engineering sites in Cardiff, Southampton and Chesterfield and its product technology centres in Barnsley and Warrington.
The engineering sites focus on servicing, repairs, and upgrades of pump, motor and geared drive equipment as well as providing a base for ERIKS site services teams.
David Gillies, chief executive officer at ERIKS UK & Ireland, comments: "Our goal was to create an industrial fulfilment centre that sets new standards for our sector. Following this huge investment, we are now able to achieve levels of accuracy, speed and service that have never been seen from an industrial distributor.
"The FCE and its vast warehouse space will enable us to provide customers with an unrivalled range of specialised industrial products and services, all controlled through dynamic warehousing systems.
"We are now able to pick and pack thousands of components every day with total accuracy and dispatch them, so the customer receives them faster than ever before." Being able to ship goods held at the FCE, or from a growing number of strategic supply partners, straight to customers rather than via its regional service centre network can provide a significant time saving.
This faster supply service now also has the option to consolidate deliveries or allow customers to request delivery on a specific date. Delivery times have been slashed from an average of four days to next day or two days depending on the source, and greater insight has been introduced so customers are kept better informed on progress of their orders.
Greater breadth and depth of product availability
The FCE warehouse capacity is 53% larger than ERIKS' previous facility in Halesowen, allowing for greater breadth and depth of product availability.
ERIKS now have capacity for a huge 11,200 Euro pallets – a 22% increase in racking space for pallet mounted parts – for small parts, the high-speed conveyors help deliver a 110% increase in productivity and a 30% reduction in pick times. Today a product or part can be picked every 21 seconds. There are 21 automated vertical lifts each standing at 12 metres tall with 50,000 flexible locations, delivering a 500% increase in fully automated storage capacity and running perpetual inventory stock checking to further improve service levels.
---