ATAM, an Industry 4.0 factory
26 September, 2017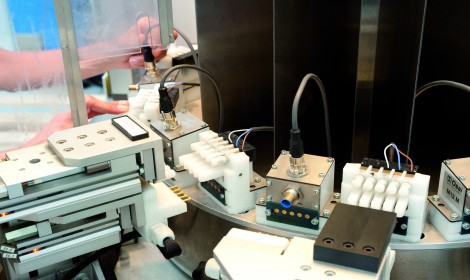 ATAM was established in 1970 with a mission to provide electric coils for industrial applications. Since then, the company has grown considerably and today reinvests 10% of its turnover in technological innovation and training.
In 2007, ATAM acquired CNE – a company specialising in the manufacture of industrial connectors and sensors – expanding its portfolio with products intended for the global market. The ATAM range now includes: robust external armature coils, encapsulated coils and coils for potentially explosive environments, in addition to high performance industrial connectors, sensors and digital pressure and vacuum sensing devices. Industries using these high-quality products include: hydraulics, pneumatics, refrigeration, gas, steam, domestic appliances, automotive, packaging, medical, food, handling and machine-tools.
Already one step into the future
The expanded Bergamo-based production plant now covers a total area of over 10,000m2 and on the other side of the world, a new Taiwan based production plant has fully automated moulding and assembly lines. ATAM has already adopted many protocols of Industry 4.0, such as interconnected robotic machines, which constantly interface with state-of-the-art management software, providing production data in real time. The use of data, processing power and connectivity for centralising and storing information are the foundations of the company's 'smart manufacturing' project.
The technical office is the focal point of this automated process. In addition to designing new projects, this department enters product-related data in to the management system, making it accessible to the entire company and offering feedback through every stage of the development process; from the start of production through to final inspections. Once data is collected, value is obtained from 'machine learning', which in simple terms enables machines to fine-tune their performance by 'learning' from the collected and analysed data.
Every machine is equipped with monitors, which support the operator by displaying the parameters of each individual component being processed, providing prompt real time feedback on productivity, progress, and sends alert signals when the parameters are not in line with the reference. Upon request, ATAM can print a QR code, containing electrical and traceability data on the finished product. The development of the company is not only digital; great attention is also being paid to sustainability, meaning respect for the environment and for the wellbeing and training of personnel.
Connectors for solenoid valve- self assembly
Each day in excess of 40,000 different connector components are produced and supplied to the most important manufacturers of industrial automation solutions. ATAM connectors comply with EN 175301-803 normative and are available as cable entry version for self-assembly of the cable, or can be supplied complete with moulded cable. In addition to the standard connectors, the company offers a wide range of options available with built-in control circuits providing additional functions which include LED visual indication, over voltage protection and rectifiers.
---