Atlas Copco's G15 air compressor enables window of opportunity for bespoke blind manufacturer
03 March, 2022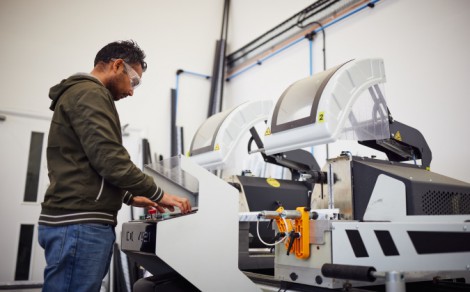 Ventura Enterprise is a start-up manufacturer offering bespoke integral blinds for double-glazed windows and bi-fold doors. The company has invested in multi-tool CNC drilling and punching machines to maximise throughput and boost its competitive edge. These machines have been powered, without issue, by an Atlas Copco G15FF 10 bar air compressor since their original installation.
As an alternative to conventional types, integral blinds fit into the airgap between the two double glazing glass panes within the window or door frame. They are compelling solutions for many reasons: They are neat, tidy, and compact compared to external blinds, and need less time and cost for maintenance. Also, unlike external types, integrated blinds are not susceptible to damage through careless use. As they do not gather dust, they offer a hygienic choice for environments like hospitals. Ventura currently offers magnetically controlled units, but they are developing electrically controlled versions that recharge either from a solar cell or a mains-powered charger. One remote control will operate up to four blinds.
Highly reliable compressed air power
While setting up their operation, Ventura needed to source a rotary screw air compressor to power all of their manufacturing equipment. Pritesh Patel, director at Ventura, explains that the compressor had to be completely reliable, as the company's entire manufacturing process depends on it. Accordingly, the Ventura chose an Atlas Copco G15FF 10 bar tank mounted oilinjected rotary screw compressor for four reasons:
First, Atlas Copco was recommended to Ventura by a colleague who had highly favourable, problem-free experience in using Atlas Copco products. Secondly, Atlas Copco was a wellrecognised brand name with many good reviews. Thirdly, the price offering was attractive - an especially important consideration for a start-up making a large number of capital purchases to set up their manufacturing facility. Finally, Ventura was also able to purchase the compressor through The Compressor Store, Atlas Copco's online store, which was convenient and included free delivery.
Although a 10kW compressor may have been sufficient to handle current production requirements, Ventura decided to futureproof their operation by going for the extra capacity of the 15kW machine. They also purchased an output filter to ensure delivery of optimum quality air to their manufacturing equipment, to avoid risk of damage.
"Atlas Copco delivered the compressor, and we were able to install it ourselves along with the pipework," comments Patel. "It's now been running for four months without issue – it has been perfect!" He continued: "We are very happy with the way business and production have been developing, particularly as we are now receiving larger orders. We are targeting large buildings like hospitals to help with their hygiene requirement, but also other commercial premises, where people often use windows carelessly and damage the blinds attached."
Well-suited to the demands of smaller businesses The G15FF 10 bar air compressor is particularly well-suited to the demands of smaller businesses. The belt-driven compressor only needs a single-phase supply while being quiet, efficient, powerful, and reliable. This robust package is highly affordable, as a low initial investment is followed by efficient, low maintenance operation.
---