Bowman RK oil coolers – a cost-effective alternative to bespoke units
27 July, 2021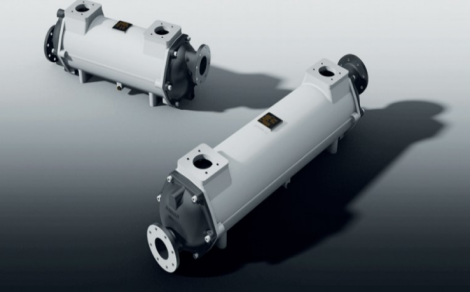 Offering heat dissipation of up to 900 kW, the recently introduced Bowman RK range of hydraulic oil coolers offers a costeffective solution for 'high heat load' applications, where usually only a bespoke designed heat exchanger can achieve the level of cooling performance required.
''There are many advantages in selecting a 'standard design' heat exchanger over a bespoke unit,'' says Bowman commercial director, Jamie Pratt. ''These include being able to specify an oil cooler of proven design and specification, with verifiable performance, that is more competitively priced and available much faster than would ever be possible, compared to a bespoke designed and manufactured unit."
Compact unit
And the Bowman RK range offers just those advantages, in a compact unit of proven performance and reliability, from one of the world's leading heat exchanger manufacturers. Available in two sizes, the RK400 is just 1392mm in length, yet it offers heat dissipation of up to 570kW, with a maximum oil flow of 1450 l/min. The larger RK600, at 1900mm long, is rated for up to 900 kW heat dissipation, with a maximum oil flow of 1240mm l/min.
Additionally, by providing the thermal requirements of the system, Bowman can use its computer-aided selection programme to calculate the required performance and specify the optimum oil cooler for the application.
For use with either fresh water and sea water cooling media
Designed for use with either fresh water and sea water cooling media, Bowman RK oil coolers are suitable for use in large hydraulic power unit, as well as applications where high viscosity lubricating oils need to be cooled for machinery and equipment used in steel mills and other large industrial plants.
While standard RK models are designed to operate with oil temperatures of up to – 120 deg C, high temperature versions, suitable for use with oil temperatures up to 150 deg C, are also available, as are versions for use with fire resistant fluids.
Minimised thermal stresses
Designed and manufactured in the UK, Bowman states that the units feature a precision engineered, fully floating tube stack, which minimises thermal stresses and provides extremely efficient heat transfer and low pressure drop.
Bowman RK oil coolers feature SAE DN102 oil flange connections on the shell side shell and 'C' coat end covers, for maximum corrosion protection. The end covers are easily removable, allowing the tube stack to be withdrawn from the shell, simple cleaning and routine maintenance.
https://ej-bowman.com/products/ hydraulic-oil-coolers/

https://www.linkedin.com/company/e-j-bowman-birmingham-ltd-/about/
---