Hydraulic cylinder manufacturer Northern Hydraulics launches new website
30 September, 2020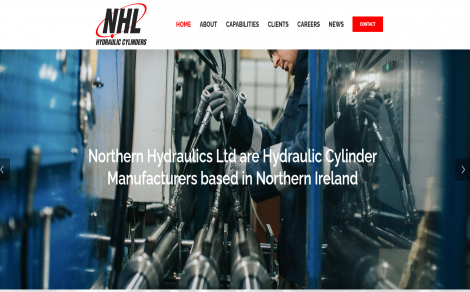 Northern Hydraulics an industry-leading manufacturer of bespoke, precision-engineered hydraulic cylinders, in Northern Ireland, has announced the launch of its brand new website.
The newly revamped NorthernHydraulics.com offers customers more comprehensive details on their high standard of industry-specific hydraulic cylinders, which Northern Hydraulics take from concept and design stage all the way through to production and delivery.
The Tyrone-based manufacturer has upgraded its entire digital platform. An improved careers section highlights the many benefits of working with Northern Hydraulics, as well as offering prospective team members the ability view and apply for jobs via the website.
Long-standing and trusted customers of Northern Hydraulics across multiple industries including Materials Processing, Agriculture, Waste & Recycling, Commercial Vehicles and Aerial Work Platforms, (including Metso, Terex, McCloskeys and Miller UK) are highlighted in the brand new Clients section.
The Deloitte Best Managed Company (2019 and again in 2020) delivered the website in September 2020, despite a very challenging summer nation-wide.
Following a period of closure during lockdown, Northern Hydraulics organised a staged, safe return to business in late spring and is now back to capacity, manufacturing up to 125,000 cylinders every year, with capacity for up to 180,000.
Northern Hydraulics credits its successful return to full capacity to their skilled and agile team; who have been working harder than ever to deliver an exceptionally high standard to their customers worldwide;
"Despite a very challenging summer, our highly skilled and agile team have been absolutely fantastic at getting to grips with and overcoming the challenges we've faced.
We are extremely proud of what the team here at Northern Hydraulics Ltd has achieved, in spite of all the obstacles we've encountered.
Our new website forms part of our next chapter. The remainder of 2020 and 2021 will bring fresh challenges, but we feel well equipped to deal with anything that comes our way."
Managing director, Michael Ferran.
The new website launched in Autumn 2020, alongside a new plan for fresh content and increased engagement through Northern Hydraulics' three social media platforms; Linkedin.com, Facebook.com/NorthernHydraulicsCylinders and Twitter.com/northernhydr.
---