Paul Cooke Appointed Interim CEO at BFPA
08 February, 2022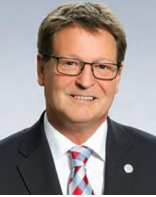 The British Fluid Power Association (BFPA) is pleased to announce the appointment of Paul Cooke as Interim CEO from January 2022. Paul succeeds Chris Buxton who retired from the association in the last quarter of 2021.
Paul brings with him a wealth of experience as well as his passion for Fluid Power having held various senior roles over his 37-year career. Most recently he was CEO and Regional President for Bosch Rexroth North America; prior to this he held the position of VP Worldwide Sales for Bosch Rexroth's Industrial Business and up to 2012 he was the MD of Rexroth's UK operations. Paul is also a Past President of the BFPA and was until recently an active Board Member of the American National Fluid Power Association (NFPA).
Paul commented: "I am delighted to be welcomed back into the BFPA – our industry is facing many challenges as well as opportunities, and I will dedicate my time at the BFPA to ensure that we further strengthen our Pneumatics and Hydraulics Industry in the UK in these critical times."
His brief as Interim CEO will be to lead the BFPA into 2022 with the support of the experienced staff team. Paul will set up the strategy map for BFPA's future success and will ensure that the ground is well prepared for a long-term successor.
An in-depth interview with Paul Cooke will be featured in the March 2022 edition of Hydraulics & Pneumatics.
Contact the BFPA at Tel: +44 (0)1608 647900 • Email: enquiries@bfpa.co.uk • Web: www.bfpa.co.uk
https://twitter.com/bfpaofficial
https://www.linkedin.com/company/british-fluid-power-association/
---