Fit-for-purpose hose crimpers from O+P
27 May, 2021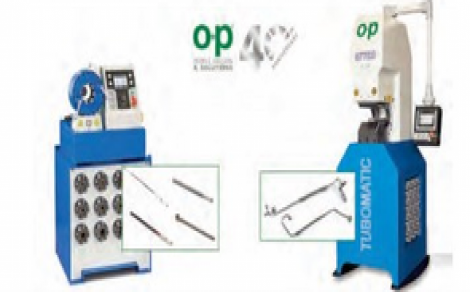 Among the wide range of crimpers offered by O+P, alongside high-volume, workshop and service machines, there is also equipment designed to target the special applications market. The recently introduced hose crimper Tubomatic HS54ES is a clear example. According to the company, this crimper is the perfect fit for anyone who needs to carry out series production of small hoses, ropes, cables, electrical resistances and eyelet terminals.
Quick lubricating system
The processing of small hoses needs a lower tonnage and a reduced opening, so O+P has increased the re-opening speed and the productivity of the machine, which results in a higher number of crimpings per hour (up to 1650). Due to this characteristic, this machine is particularly suitable for inclusion in an automated system. The Tubomatic HS54ES features a quick lubricating system, which acts by means of greasing points placed on the front flange. Its ES3 electronic control, together with easy-to-use and intuitive software provided with 5.7'' colour touch-screen display, is claimed by O+P to guarantee maximum precision as well as high productivity.
Saving time and increasing productivity
Another crimper that falls into the special applications category is Tubomatic S77ES, which was designed to crimp flexible hoses combined with rigid pipes with tight and complex bends. The wide frontal rift facilitates hose passage, which can save time and increase productivity, making this machine particularly suitable for the automotive industry. This crimping machine can also be used to crimp hydraulic hoses up to a maximum diameter of 95 mm and with a crimping force of 45 ton.
The standard accessories of Tubomatic S77ES include a silent pump, self-lubricating moving components and an ES4 Siemens PLC control with 7'' colour touch-screen display. The intuitive software, which helps to make daily operations easier and quicker, can be enhanced with many optional features such as multistep crimping diameters, a crimping speed control system, Industry 4.0 kit with remote assistance software and crimping diameter self-correction.
https://www.linkedin.com/company/op-srl/
https://www.facebook.com/OPthecrimpermaster/
---