New workshop crimper Tubomatic H170ES from OP
27 April, 2021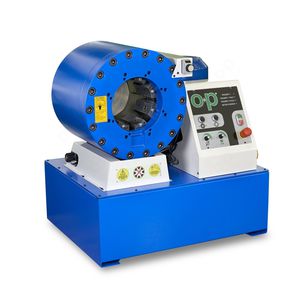 OP has launched the new hose crimper Tubomatic H170ES (up to 1'' 1/2 six spirals), claimed to be particularly suitable to process industrial hoses up to 4'' with big flanges and camlock fittings.
When designing the machine, the goal OP's engineers had in mind was to create a crimper that allows operators to comfortably process hoses with big bulky flanges, thus to create a wider working space. They made this possible by enlarging the opening of the crimping head – Tubomatic H170ES boasts an opening without dies of 219 mm and a die opening of Ø + 61 mm.
Like all OP's ES H series crimpers, the machine is provided with a back limit switch and ES3 control, with a 5.7'' colour touch-screen display, with a user-friendly interface that allows to improve crimp quality, safety and reduce crimp cycle times. On this particular crimper, the ES3 control comes with a new function, the Industrial hoses crimp calculator – a feature that was added to make this crimper a compelling choice for anyone who works with industrial hoses.
Automatic calculations
The crimp calculator allows the system to automatically calculate the ideal crimping diameter of the industrial hose to be processed, helping to make the operators' daily job easier. Operators will only have to input a few simple parameters – hose internal and external diameter, hose compression factor, ferrule thickness and fitting shank outer diameter – and the system does the rest. The ES3 control can be enhanced with the addition of several optional features, including pressure-controlled crimping, USB port connection, multistep crimp option and a quality check function.
https://www.linkedin.com/company/op-srl/
https://www.facebook.com/OPthecrimpermaster/
---