New online version of 2-day Hose Assembly Skills training course
23 June, 2020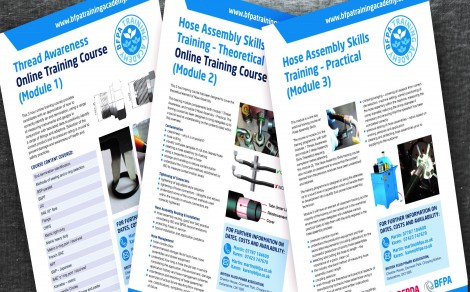 The BFPA is pleased to announce that the new online version of the 2-day Hose Assembly Skills training course is now available.
This online version will run alongside the Association's traditional 'face to face' training course offering both employers and employees more opportunities to attend training sessions in a way that fits into their working schedule in an easier and possibly more cost efficient way.
This expansion of training methods means that going forward there will now be 2 options for you to access the BFPA Hose Assembly Skills training course.
Option 1. Hose Assembly Skills Training online courses
To meet the continued demand for training the BFPA has developed two modular online courses based on the existing theory elements of the Hose Assembly Skills training course. Both Modules 1 and 2 can be used as standalone courses or when combined with the Module 3 practical assessment day can lead to the full Hose Assembly Skills training certificate.
Module 1. BFPA Thread Awareness online theory training course
This 3-hour online training course aims to help delegates to correctly identify an end termination and positively identify a range of fittings and adaptors.
Module 2. BFPA Hose Assembly Skills Training- Theoretical online course
This course aims to bring delegates up to a sound level of understanding on the following topics: contamination, tightening of connectors, hose assembly routing and installation, hose management.
Module 3. BFPA Hose Assembly Skills Training – Practical
This is a 1-day practical training course on hose assembly skills designed to help delegates to develop into quality fluid power hose assembly technicians. The majority of training will be carried out in a workshop environment where delegates undertake a variety of practical tasks to help them with the skills required in the hose assembly process. Delegates will be asked to complete a small assessment to ensure prior learning from Modules 1 and 2 has been understood and retained.
The day will take place at one of the BFPA's approved training facilities or a company's premises once conditions allow.
Option 2. The 2 day Hose Assembly Skills Training Course (Temporarily suspended due to Covid 19) The BFPA's traditional 'face to face' training programme for hose assembly skills has been temporarily suspended due to the coronavirus but will be reinstated as soon as possible and will provide an alternative method of learning alongside Option 1.
By increasing the ways in which the training can be accessed you are now be able to choose to attend the Hose Assembly Skills training course either over 2 consecutive days through the 'face to face' training or spread the sessions over a period of three months using the online training modules.
For more information on any of the BFPA's training options please visit the BFPA Training Academy website https://bfpatrainingacademy.co.uk/ or contact Martin Kingsbury martin@bfpa.co.uk or Karen Gordon-Brander karen@bfpa.co.uk
---