New £80,000 test rig investment for Northern Hydraulics
06 April, 2021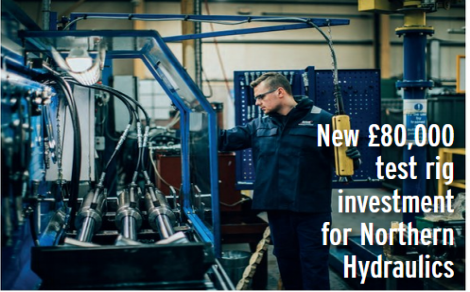 Seamus Morris started Northern Hydraulics Ltd (NHL) in 1988 to tap into the growing local materials processing market. Creating tailormade hydraulic cylinders, NHL has gone through a few major technological transitions in its 32- year history. Some of the biggest changes are taking place in 2021, including NHL's £80,000 investment in a brand-new testing facility, which the company says offers greater efficiency and precision.
In Q1 2021, NHL implemented a pressure monitoring system with traffic light indicators at final test. This system not only captures the test information for each cylinder but also records and sends the data to a central server, which can be accessed at any time. This gives NHL full traceability of every cylinder tested on the rig and allows the company to move away from the reliance of manual inspection, reducing the risk of failures in the field.
Continuous advancements in technology
Despite some additional procedural changes brought on from the pandemic and the market uncertainty around Brexit, Morris says the biggest change for NHL has been the continuous advancements in technology: "The biggest change for us over the years has been the continuous investment in new technology," he says.
"The industry is completely unrecognisable compared to 32 years ago and we're always adapting our business to keep up with the latest innovations."
NHL also now has two robotic weld cells and two semi-automatic welding lathes, allowing it repeatedly to produce hydraulic cylinders, maintaining quality with high volumes. The company's electrostatic and 2k colour change system cuts down on wastage and allows a seamless changeover in the painting process. NHL claims all these advancements deliver both increased quality and capacity.
Adapting to the 'new normal' The company also went through some major changes at the start of 2020, before the pandemic took hold in the UK. Morris took up the role as chairman and previous general manager Michael Ferran took over as managing director. "The pandemic was completely new territory for all of us and at the time it was a real challenge," says Ferran. "However, our team really pulled together and adapted so quickly to the 'new normal'. We were closed for a short time during the first lockdown but we took on five new clients in the second half of 2020."
Fuelled by a five-year controlled annual growth plan of 15% per year, Ferran started an ambitious recruitment drive at the start of 2021; with plans to grow the team by 30% this year. Despite the pandemic, NHL has credited 15% of its 2020 turnover to new clients obtained in Q3 and Q4. Ferran says the growth has mainly come from the construction and aerial work platform industries but says he can see growth across the board.
Image shows Seamus Morris, chairman; and Michael Ferran, managing director.
For more information:
https://twitter.com/northernhydr
https://www.facebook.com/NorthernHydraulicsCylinders/
---