'Fit and Forget' actuators provide low maintenance solution for bread manufacturing
10 September, 2020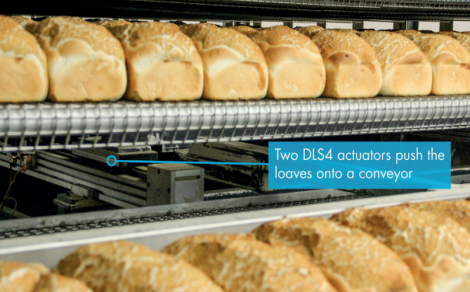 In recent months, due to the coronavirus pandemic, there has been a spike in demand for bread far in excess than previously seen. Whereas many people usually buy a ready-made lunch every day, now they are buying bread and eating at home. The UK bakery market is one of the largest markets in the food industry, and not surprisingly, there is a high need for modern technology to rise up to market demands. To keep up with today's demand, the food processing industry needs to be efficient; this means most of the tasks need to be automated. But in every automated system, there are a host of smaller components that perform simple yet essential processes. Without these components, the automation could not take place.
David Wood Foods – at the forefront of innovation
Based in Newport, South Wales, David Wood Food manufactures bread for the biggest retailers in the UK. Operating a fully automated production line, from the initial weighing and mixing of ingredients, to the proofing, baking and cooling, right through to the slicing and packaging, David Wood Foods currently produces in excess of 420k loaves a week. Operating 24/7, 364 days of the year (Christmas day being the only non-operating day), this is ahigh duty system requiring a low maintenance, reliable solution. In addition to this bread manufacturing site, there are a further seven David Wood sites throughout the UK manufacturing luxury meals, savoury pastries, pasties and crafted bread. A mature and fiercely competitive market, David Wood Foods operates highly efficient manufacturing sites to stay a step ahead of the competition.
Actuators are often essential elements of a production line in the food industry and for David Wood Foods this is no exception. In this high duty application, David Wood Foods uses HepcoMotion's DLS4 belt driven actuator system which comprises belt-driven linear modules, an AC motor/inverter package and a range of compact planetary gearboxes for use with servomotors. Corrosion resistant options are also available, very often a key requirement in the food and packaging industry where regular wash/wipe downs are frequently required. HepcoMotion specialises in high quality linear solutions and automation components and, celebrating its 50-year anniversary this year, has gained a reputation for its highend, low maintenance products.
A total of 10 x DLS4s are used in three key areas of the production line. Two are used to push the loaves into the oven, four are used as an infeed and outfeed inthe cooler, and the final four are used in the packaging area to assist with packing the loaves into the delivery baskets. Ideally suited to this application, DLS4 is a reliable, low maintenance solution offering trouble-free operation from proven V guide technology and a long system life.
Actuators used in core processes
Arranged in parallel and operating with a single motor, the first set of DLS4s are connected to a pusher arm which moves the trays of loaves forward onto a conveyor, into the oven operating at a temperature of over 200degC. Working in close proximity to the oven, the double row bearings are suited to the high temperatures. HepcoMotion also offers Vacuum and Extreme Temperature bearings for either extreme high temperatures or extreme low temperature applications. 32 loaves are moved at a time and baked in the oven for over 20 minutes. The actuators are constantly repeating this process every 30 seconds, 24 hours a day, seven days a week. As a zero-backlash system, the DLS4s are able to offer the greater repeatability and accuracy required for this application.
---