Manufacturing exhibitions display innovation and confidence
08 April, 2022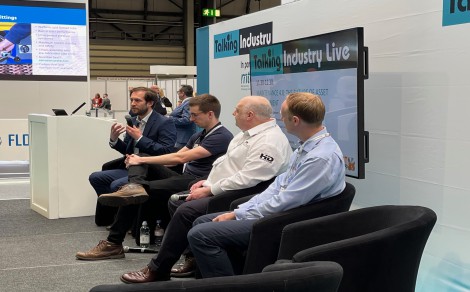 The manufacturing and engineering sectors made a strong display of its innovation and confidence at the recent co-located events; Drives & Control, Smart Industry Expo, Plant and Asset Management, Fluid Power & Systems, and Air-Tech Exhibitions – held at Birmingham's NEC from 5 to 7 April.
Drives & Controls Exhibition 2022 once again brought together key suppliers of state-of-the-art equipment representing the multi-tasking culture of today's design engineer, covering critical areas such as energy efficiency, machine safety, drives, motion control, robotics, and automation plus much more, all under one roof. With the advent of the smart factory, Drives & Controls Exhibition 2022 was an essential source of technological and engineering information and was fully supported by GAMBICA and EPTDA.
Returning exhibitors included Beckhoff, Rittal, Weidmuller, Mitsubishi Electric, Radwell, Bosch Rexroth, Elmo Motion Control, Binder, Carlo Gavazzi, Eaton Electric, Finder, Hepco, HMS Industrial, Leuze Electronic, Control Techniques/ Nidec Industrial Automation, Omron, Pilz Automation Technology, Renold, plus many more returnees. Other exhibitors included: EAO, EMAS Electric UK, M Buttkereit Ltd, WEG (UK) Ltd, IDEM Safety, Applied Integration UK Ltd, and Trio Motion Technology, whose President, Tom Alexander, commented: "We're very happy to return to Drives & Controls Exhibition because it's an important event to present our growing automation control package to UK machine builders."
To complement Drives & Controls Exhibition the now firmly established Smart Industry Expo, gave visitors the ideal opportunity to learn about digitalisation and how to prepare and implement a strategy in this smart era as well as being able to discuss a wide range of issues from components to Predictive Maintenance 4.0, Logistics 4.0, and smart grid technologies amongst others. Other areas covered included: components for IT-based automation solutions that will bring fundamental change to all in-factory processes, IT security, as well as smart technologies that manage and coordinate power, gas and heat networks so that capacity can be balanced and optimally deployed across the entire energy system – integrated energy.
Manufacturing Technology Centre
The 100m2 Manufacturing Technology Centre (MTC) pavilion was joined by its members to encourage new innovation, and its presence at Smart Industry Expo and Drives & Controls highlighted the importance that the MTC attributes to these key sectors.
Alongside Drives & Controls Exhibition and Smart Industry Expo, the co-location also saw the return of Plant & Asset Management Exhibition 2022 – the UK's premier event for plant, asset, maintenance and works management engineers and directors.Exhibitors currently included: SPM Instrument UK, Fixturlaser, Fluke, EA Technology, Keytracker, Pragmatic Maintenance & Reliability, Lee Spring, Maintmaster, Pruftechnik, SEAM Group, Senseye, Sensata, T Cards Direct, Ultimo, plus many more.
Running alongside Plant & Asset Management 2022, Drives & Controls Exhibition and Smart Industry Expo, was also Air-Tech 2022, which highlighted current key themes related to the very latest in air compressor and related technology from companies from around the globe. The event was supported by the British Compressed Air Society (BCAS), and is the UK's only dedicated event for the compressed air and generators market.
---