New partnership puts purity in pole position
26 May, 2020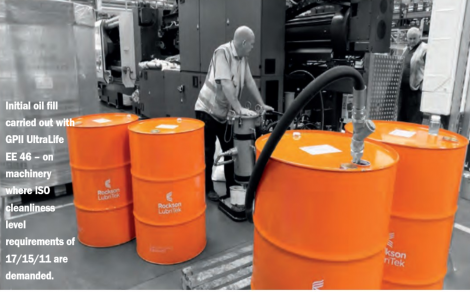 Reynolds Contamination Control has announced that, from now on, all its servo test hydraulic power units will incorporate Rockson LubriTek's GPII UltraLife Premium range of hydraulic oils. The new partnership brings together two companies whose primary focus is the pursuit of purity.
Reynolds report that the company, led by technical director Wayne Hubball, has been relentless in its quest to boost filtration and particle control – and overall cleanliness in fluids. Along with training and consultancy services, Reynolds designs and builds bespoke rigs for clients – including Formula 1 racing teams – looking for the highest possible standards.
Now, it is these hydraulic power units that will – in turn – showcase the benefits of premium hydraulic oil quality. Rockson LubriTek's GPII UltraLife Premium range of hydraulic oils are produced from hydrocracked base oil technology blended with a high performing additive pack which meet the new Bosch Rexroth fluid rating RDE 90235.
Benchmark
Rockson LubriTek sales director Jamie Shaw, comments: "This specification will be the industry standard benchmark for all hydraulic oils moving forward, asdemands on hydraulic systems increase and pump manufacturers demand higher performing hydraulic oils, especially with more compact systems with less oil.
"GPII UltraLife offers four times longer life against oxidisation, improved filterability maintaining lower ISO cleanliness levels, advanced lubricity offering increased wear protection and extending equipment life, excellent water separation capability and improved sheer stability enhancing hydraulic system performance."
Hubball adds: "Our mission, quite simply, is to provide the highest levels of cleanliness and customer service - through the application of a rigorous science-based process that enhances engineering performance and helps protect our environment.
"Like all our strategic and technical partners, Rockson LubriTek are experts in their particular field and the fact that we are using their GPll UltraLife Premium range of hydraulic oils further enhances our own product offering and creates even higher levels of customer confidence and trust."
---