Elesa at the Advanced Engineering Exhibition
03 October, 2018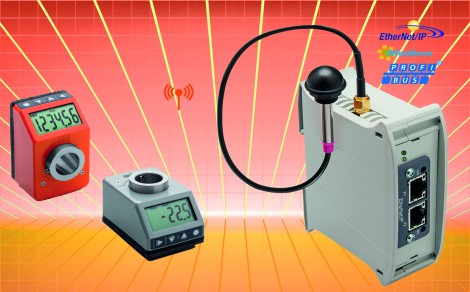 The Elesa stand at this year's Advanced Engineering Exhibition focuses on specialist equipment and design considerations. These include the company's new wireless position indicators and hygienic design levelling feet, as well as its Elecolors program for matching components to customer colour schemes.
The new Elesa DD52R-E-RF is a wireless spindle positioning system, designed for an efficient manual spindle positioning, consists of UC-RF control unit and, up to 36 electronic position indicators DD52R-E-RF (Elesa Patent).
Most often, machine setup is performed manually by means of traditional mechanical indicators coupled with handwheels or crank handles, following a specific list of set-up parameters.
The new electronic position indicators DD52R-E-RF are networked to UCRF control unit via radio frequency (RF). This system is particularly suitable for applications that require frequent format changes, facilitating the correct adjustment of the target/current position of the machine parts, also representing a safety system. PLC control does not allow the machine to start the production cycle, thus avoiding production issues.
The new levelling feet series Hygienic Design (LM-HD-SST, LM.F-HDSST) including screws and nuts (NTHD-SST) are suitable for environments where a high degree of hygiene management is required and they are certified 3-A by Sanitary Standard, Inc. that promotes food safety and public health.
Furthermore, the execution with holes for ground mounting is certified according to the EHEDG guidelines (European Hygienic Engineering & Design Group).
Among its over 40,000 product codes available in stock, Elesa offers an extensive selection of standard components, in the Elecolors chromatic range: orange, grey, yellow, blue, red and black.
Livelier colours than the traditional grey and green 'Reseda', typical of the mechanical industries of the past, these are now accepted and requested by a growing number of sectors. The reasons behind this new market requirement come from an aesthetics renewal process of machine tools and equipment that has transformed the design and requirements (not only technical) of the components.
---