Genair expands hire fleet
13 May, 2020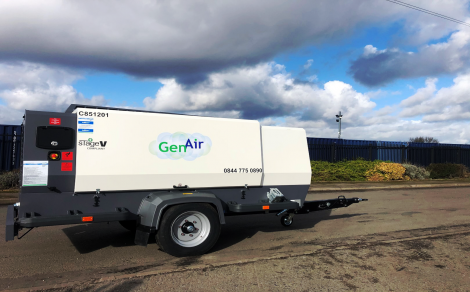 Genair, the specialist air compressor rental company, has added a line of Atlas Copco XAHS 408 air compressors to its hire fleet. These diesel-powered, Stage V compliant sets, deliver 850cfm @ 170psi at ambient temperatures between -25degC up to +50degC.
With a quiet noise level of 74dB(A) @ 7 metres and protected in a rugged, 'rental quality' canopy, these new units are claimed to be ideally suited for use in all situations and particularly in areas governed by emission controls.
The XAHS 408 compressor comprises compact dimensions of 5731 (Length) x 1987 (Width) x 2058mm (Height) and weigh just 3500kg. Their built-in after cooler and water separator are claimed to be able to eliminate up to 70% of moisture. This can help to deliver superior air quality for improved performance.
With a handy 270 litre fuel tank, featuring direct feed capability, the air compressors are said to be able to consume fuel, on full load, at 42 litres per hour. There is also 60 litre Ad Blue tank for cleaner operation. For operators working in sensitive environments, such as oil refineries, the XAHS 408 sets can be fitted with an inlet shut down valve and spark arrestors.
Bridging the gap
"We currently manage a fleet of diesel, electric and oil-free compressors from 260 to 960cfm," explains David Timmins, GenAir's, managing director. "However, we were aware that we needed to introduce these new sets to enhance our range, helping to bridge the gap between our 600 and 900 cfm models."
Incorporated in April 2007, Genair Ltd is independently owned and a rental specialist of compressed air systems in the UK. The company operates from three strategically placed depots; Motherwell, Slough and in the West Midlands. Registered to ISO 9001, the Genair team has a collective 140 years' experience in the compressed air markets, with fully qualified service technicians and ADR drivers. Genair supplies equipment extensively throughout the UK and overseas.
---