GenAir set for a Green Apple Award for All Weather All Electric Air Compressor
23 October, 2019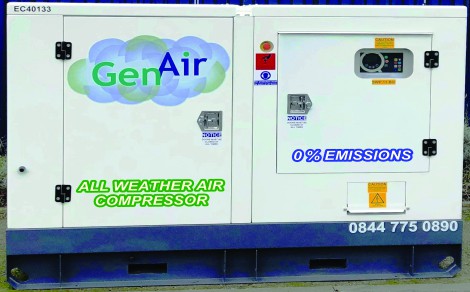 GenAir, hirer of compressed systems and desiccant dryers, has had the environmental qualities of its emission-free, All Weather All Electric Air Compressor formally recognised by the internationally respected campaigners, The Green Organisation.
Three senior representatives from the West Midlands-based company have been invited to a glittering presentation ceremony, hosted at the Houses of Parliament on 25 November, where they will receive their award.
These individually designed compressors have a working pressure of 10 –190psi with a maximum free air delivery of up to 400cfm. With a whisper quiet noise level of just 67dB (A) and protected in a fully weatherproof canopy, these brand-new units are claimed to be perfect for use in all situations and particularly in areas governed by emission and noise rules.
GenAir comments that there are many advantages for using an electric compressor as opposed to a diesel-powered set. The company states that because most diesel sets can only run for about 12 hours before they need refuelling, their fuel levels will require constant monitoring. This, says GenAir, can distract an operator away from more important tasks. As Genair's electric compressors run entirely free from fuel, the environmental damage from diesel spillage is completely eliminated. Furthermore, GenAir comments that a diesel engine's filters must be replaced every 500 hours – that's every three weeks for a project that runs for 24 hours. Electric compressors can be left alone for up to 4000 hours before maintenance is needed, giving them a significant advantage on all major programmes. GenAir reports that they continue to operate in extreme temperatures from minus 25degC to plus 50degC and their built-in after cooler and water separator will eliminate up to 70% of moisture. This will help with delivering superior air quality for improved performance.
GenAir's managing director, David Timmins, said: "Naturally, we are honoured to receive this award. Emission elimination and compliance with NRMM regulations have been the driving factor in developing these compressors. To have them officially acknowledged as a sustainable product is extremely satisfying."
The Green Apple Awards began in 1994 and have become established as the country's major recognition for environmental endeavour among companies, councils, communities and countries. The Green Organisation is an international, independent, non-political, non-profit environment group dedicated to recognising, rewarding and promoting environmental best practice around the world.
The Green Apple Awards are supported by the Environment Agency, the Chartered Institute of Environmental Health, the Chartered Institution for Wastes Management and other independent bodies.
---