THE FULL SOLUTION FOR ALL HYDRAULIC NEEDS
13 March, 2020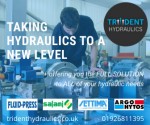 TRIDENT HYDRAULICS, a leader in the design, manufacture and supply of hydraulic systems and circuits, says it enables its customers to get all their hydraulic equipment with ease in one place:
• HIGH-SPEC, CUSTOM DESIGNED HYDRAULIC SYSTEMS are designed by inhouse engineers, that can efficiently meet specific needs. Trident says its experienced and passionate engineers keep up to date with system design and use state-of-the-art 3D Solidworks CAD software to provide the highest quality.
• BESPOKE MANIFOLD BLOCKS are designed and manufactured in-house by 'Trident Machining'. This enables rapid turnaround time and ensures specific requirements can be met. The machinists are consistent in producing clean, high precision, high quality manifolds.
• HYDRAULIC COMPONENTS from trusted, quality brands such as Argo-Hytos, Salami, Settima and Fluid Press can also be supplied. Including, a wide range of hydraulic pumps, valves, filters, and power unit accessories that can meet the rarest of needs.
Trident says it enjoys working with both large and small companies from a variety of different industries and can take a company forward with the finest equipment and ongoing support to provide the solutions and service necessary, no matter what the requirement is.
t: 01926 811395
e: info@tridenthydraulics.co.uk
w: www.tridenthydraulics.co.uk
Click here for the full unedited version of the release as provided by the company
---
AIR-TECH EXHIBITION


16 April, 2024, 9:30 - 18 April, 2024, 4:00




Hall 9, the NEC, Birmingham, UK

FLUID POWER & SYSTEMS EXHIBITION


16 April, 2024, 9:30 - 18 April, 2024, 4:00




Hall 9, the NEC, Birmingham, UK