How to avoid contaminated breathing air in the workplace
31 January, 2020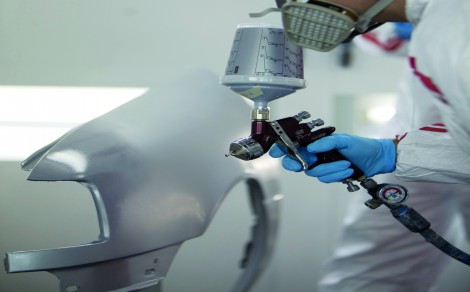 By Andy Lill, business development manager for quality air at Atlas Copco.
In some work areas, particularly in industrial sectors such as oil and gas, chemical, pharmaceutical and manufacturing, the ambient atmospheric air is too contaminated for operatives to breathe without risk to health. In these cases, it is common practice, and an essential duty of care, for employers to provide a safe compressed air system as an alternative source of breathing air. But the emphasis must be on 'safe' and it is important that the risks are understood.
[subhead] Breathing Air purifiers
The solution to the problem is the addition of breathing air purification equipment to the compressed air supply, controlled and monitored in accordance with compressed air for breathing quality standards such as EN 12021:2014 'Respiratory equipment – Compressed gases for breathing apparatus".
In selecting the appropriate purification equipment, it must be remembered that contaminates will be in one of three states of matter: solid, liquid or gaseous. The corresponding contaminant limits within EN 12021:2014 requirements are as follows:
Odour: The gas shall be free from unsatisfactory odour and taste
Oxygen: Content shall be 21% +/- 1%
Carbon Dioxide: Content shall be less than 500 ppm
Carbon Monoxide: Content shall be less than 5 ppm
Oil: Content shall be less than 0.5 mg/m3
Water (for airlines less than 40 BarG): Where the apparatus is used and stored at a known temperature the compressed breathing air shall have a dew point sufficiently low to prevent condensation and freezing and be at least 5degC below the likely lowest temperature. Where the conditions of usage and storage of any compressed air supply is not known, the pressure dewpoint shall not exceed -11degC
In order to limit health risk and to comply fully with regulatory requirements it is essential that assured purity levels are achieved by the purification unit within the compressed air network. The ideal breathing air purifier should have the capacity to take air from any type of compressor and convert it into ultra-clean breathing quality air. It needs to combine the functions of water separation, contaminant filtration and desiccant drying of the air output.
One such unit, Atlas Copco's BAP (breathing air purifier) range, features seven vital functions: a water separator that removes any liquid water, a bulk aerosol filter to eliminate oil and water content, a fine coalescing filter to remove even smaller particles of oil and water from the supply, plus a desiccant dryer to take out any remaining water and CO2. An activated carbon filter is included to remove gaseous impurities and a catalyst takes care of CO oxidation. Finally, a bacteria filter eliminates micro-organisms and fine particles.
This level of capability ensures the breathing air purifier complies with a wide range of standards and regulations, such as OSHA Grade D, NFPA-99, CSA Z180.1-00, CGA G7.1-1997, EN 12021, BS 4275, ISO 14971, OHSAS 18001, European Pharmacopeia and other International Breathing Standards. Such compliance guarantees a safe working environment in a wide range of applications, ranging from shot-blasting, tank cleaning, tunnelling, pharmaceutical manufacturing, spray painting, offshore/marine processes, asbestos removal, to high-pressure cylinder filling and many others.
---