New Middle Eastern market for Occo Coolers
23 January, 2020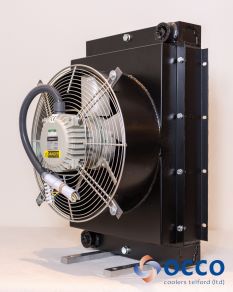 UK heat exchanger manufacturer, Occo Coolers Telford, has widened its global reach with a new deal that seen it export to the Middle East for the first time. Occo Coolers Telford is already active across several other continents but recently secured a contract to supply Air blast coolers from their OC T range to a steel company in Saudi Arabia.
During the past 12 months, Occo air blast oil and water coolers have made their way to Alabama in the US, Victoria in Australia, Nigeria in Africa and, closer to home, to Jersey. The firm also enjoys a healthy trade in Europe with Germany, Spain and Denmark among the countries where it has sold its coolers in the last year.
Occo operates in a wide variety of sectors including general hydraulics, offshore and scientific and automotive applications. Occo Coolers Telford has been manufacturing the heat exchangers since 2006, after buying the rights to the range that was first established more than 40 years ago.
Managing director Allan Cunningham said the new foray into the Middle East was a welcome addition to its global portfolio. "Although we've been supplying Occo coolers across the world for many years, it's always satisfying when we despatch a cooler to a new destination or even continent. Our export experience meant it was a seamless process for the customer, despite the 4000 miles between us. Our ability to provide bespoke solutions and offer flexibility with our production including rapid response times has helped us to win new deals like this one."
Allan added that despite the uncertainty about Britain's departure from Europe and the future of trade agreements, he anticipated a continuing demand for Occo's coolers across EU countries. "We have a good reputation and established customers in Europe and don't believe there will be any downturn in business there. With more than 40 years pedigree of the Occo name, a large portion of our business is repeat customers or providing replacement coolers or parts."
---