Keith Dickinson appointed FTUK managing director as John Farmer takes on new role with Flowtech Fluidpower PLC
21 August, 2019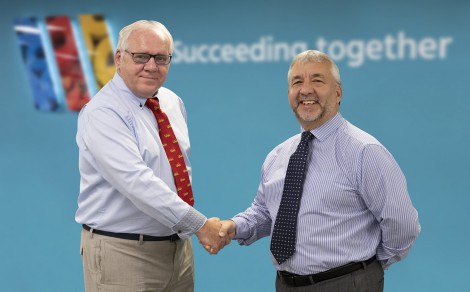 Keith Dickinson has been appointed managing director of Flowtechnology UK, moving from his former role as FTUK's business development director. Following 20 years of service with Flowtechnology UK, previous managing director John Farmer has taken on the new role of Group commercial director with Flowtech Fluidpower PLC.
Farmer joined FTUK as a sales representative for the Midland, Norwich and London areas in 1999 before bringing his engineering and customer-focused expertise to a new role as a product development manager, where he travelled the world to bring FTUK customers the best and widest range of fluid power products from a global network of manufacturers.
In 2004 Farmer was appointed as product development director, where he oversaw further developments in the range, ensuring that FTUK's customers have access to the products they need to meet their customers' requirements.
Farmer continued in this role until in 2015 when he became FTUK managing director. Over the past four years he has led FTUK to great success, built a real family atmosphere across the business and a team fully committed to maintaining FTUK's position as the leading fluid power distributor in the UK.
Farmer commented: "I would like to take this opportunity to thank all of our customers, suppliers and of course staff for all of their help and support over the last 20 years. It has been a privilege to have worked in such a great business and I have enjoyed it immensely. Although I am moving onto the new role of group commercial director and my responsibilities will be different, I will continue supporting the FTUK business and their customers, which will always have a special place in my heart. However, I have worked closely with Keith for many years and I leave the business in very capable hands. I know he will be a huge success as he leads FTUK into a new era."
Keith Dickinson joined the sales team in 1994 where he quickly established a fantastic rapport with customers – something which is just as true 25 years later. He became business development director in 2004 and has been an integral part of FTUK's success, developing and leading the business development and commercial teams to build close relationships with customers and support their businesses.
Providing customers with the services they need to succeed has always been one of Dickinson's primary motivations and over the years he has played a central role in the development of FTUK's services, including the Distributor programme, Ecommerce, 24/7 Out of Hours Service and Hose Builder.
Dickinson commented: "I have worked closely with John for 20 years and over that time we have formed a special working relationship, built on each other's strengths. It will feel a little strange not having him 'next door', but I wish him every success in his new role with the Group. On a personal note, I'm delighted to take on this new challenge and I plan to build on John's foundations and continue his great work in establishing FTUK as the biggest and best distributor in the UK. Our team of staff are the best in the industry and I look forward to leading and supporting them to further enhance the market leading service we offer the fluid power market."
Photo Caption - Keith Dickinson (left) and John Farmer.
---