Bosch Rexroth staff hope to raise more than £2000 during a charity bike ride
15 January, 2020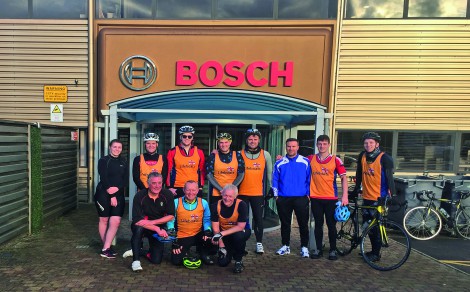 Bosch Rexroth takes Corporate Social Responsibility very seriously and allows its associates time off work to support good causes either by giving their time in the community supporting local projects and schools or in fund raising activities.
A team of keen cyclists from Bosch Rexroth have raised more than £1750 already in aid of the Royal National Lifeboat Institution (RNLI), by cycling 234km from Cirencester to St Neots via Denham.
During the two-day ride – which took place in October – a team of 12 pumped up their tyres, adjusted theirs seats and set off on the ride. Making their way from Rexroth's facilities in Cirencester to Bosch's UK HQ at Denham, then onto Bosch Rexroth's St Neots facility, the team took in the rolling hills of the Cotswolds and tackled the challenging climbs of the Chilterns.
As the 'fourth Emergency Service', the RNLI is reliant on donations and volunteers to continue to operate its 24-hour life-saving service in the UK and Ireland.
Sean Kilgallen, marketing manager at Bosch Rexroth, said: "The RNLI is a fantastic charity that we take every pride in supporting. Their work in saving lives around Britain's coastline is critical, and without it, many more lives would undoubtedly be lost every year. When we heard that donations towards this charity have been declining recently, we knew we had to do something to support them.
Challenging weather conditions
"The ride itself was two days of gruelling climbs combined with challenging weather conditions, but as a team we supported each other through it and knew that our efforts were helping to raise awareness and funds for this vital charity. While our fundraising might be a drop in the ocean given the current demand on this service, hopefully our ride will have raised awareness and inspired others to do whatever they can to support the RNLI."
Having played a significant part in the design and supply of the drive system for the launch and recovery vehicle of the new Shannon class boat, Rexroth – experts in Drives & Controls technology – wanted to further support this essential service. Funds raised from Rexroth's charity cycle will contribute towards training, equipment maintenance, lifeboats and shore facilities, each helping to prepare the lifesavers for their next call for help.
---
AIR-TECH EXHIBITION


16 April, 2024, 9:30 - 18 April, 2024, 4:00




Hall 9, the NEC, Birmingham, UK

FLUID POWER & SYSTEMS EXHIBITION


16 April, 2024, 9:30 - 18 April, 2024, 4:00




Hall 9, the NEC, Birmingham, UK