Sealing solution for innovative welding method
15 October, 2019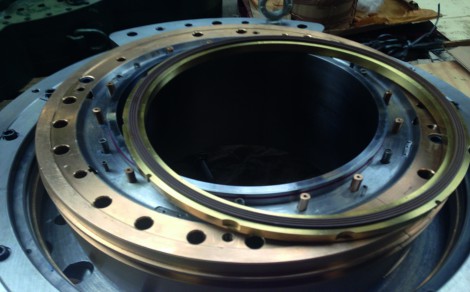 A sealing solution provided by FPE Seals has helped Jackweld with the design of an innovative welding method for joining rail tracks. Specialist machinery designers Jackweld are working on the EU project WRIST, to develop an orbital friction welding method, which aims to deliver a longer lifetime of the rails and welds, increased reliability, combined with a reduction of the maintenance cost.
The high energy application that Jackweld had designed, required a seal for an internal diameter that was rotating at speed and spinning off-centre. The problem Jackweld faced with the machinery design, was finding a seal that would work effectively on a moving object that was constantly compressing and relaxing. This presented a challenge to find two unique types of seal:
• An orbiting seal, which is constantly compressing and relaxing with each cycle,
• A face seal, which seals against an orbiting face at 2000 rpm and seals against 500 litres per minute of hot hydrodynamic journal oil.
No such seals were in existence, including any existing seal that could be adapted. Stuart Jackman, managing director of Jackweld worked with the experienced team at FPE Seals. Following in-depth discussion, deliberating different designs and drawings, the perfect sealing solution was agreed. This was then manufactured in-house by FPE Seals machined seal team. The final solution for the orbiting seal was a bespoke cup seal made from Polyurethane, with an extra-long lip that would seal against the oscillating diameter. The solution for the face seal was based on a large bronze-filled PTFE ring with three lubrication grooves, to seal the end of the application which rotates against a stainless-steel plate.
Detailed collaboration took place between the FPE engineers and design engineers at Jackweld. This ensured the optimum integration of the seal design into the machine design. The entire machine design was revolutionary in every way and the most critical aspect was the design and development of the oil seals, without which the concept could never have worked. Testing proved that the sealing was a success first time. All worked well, with both seals withstanding the rigors of the speeds, temperature and vibrations. Jackweld were then able to complete their WRIST prototype, ready for the new welding method to be tested for the EU project.
Jackman said: "The most critical part of the entire project was the oil seals. No such seals had ever been produced before and there was no prior art to go on. We had to develop them from scratch. If the seals did not work 100% effectively first time the project would have failed because there would not have been time or funds to take the machine apart, design, develop and install improved seals. The success of the project and the technological achievements literally revolved around the innovative FPE oil seals, which were the critical showstopper for the project."
---