Amarinth secures pump order from ZADCO
26 September, 2017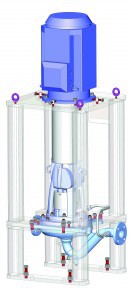 Amarinth, the company specialising in the design, application and manufacture of centrifugal pumps and associated equipment to the oil & gas, petrochemical, chemical, industrial and power markets, has secured an order from ZADCO for a super duplex API 610 OH3 pump, and utilising video conferencing significantly reduced project cost.
When the Zakum Development Company (ZADCO) required an emergency seawater sanitary pump for the Upper Zakum Offshore Oil Field Development, it once again turned to Amarinth, which has provided pumps to numerous ZADCO projects, for a solution. Upper Zakum is located approximately 84km offshore to the north-west of Abu Dhabi and is the second largest offshore oilfield and fourth largest oilfield in the world, currently producing 640,000 barrels of oil a day.
The project was being run to a tight budget and so Amarinth proposed reducing costs by minimising travel between the UK and UAE for both organisations through its state-of-the-art video conferencing facility. In the UAE, the video conferencing was hosted at NAMA, who are Amarinth's agent in the UAE, enabling all parties to work together as one.
Working together in real time
Technical and project meetings were conducted via video conferencing, which enabled all personnel associated with the project to work together in real time. Shared screens allowed design information to be interacted with by all and project and commercial discussions were concluded quickly and with greater clarity than the traditional multiple rounds of physical meetings. The video conferencing also delivered more flexibility, with adjournments as needed and then reconvening when ready with minimal delays.
Working closely together in this way allowed Amarinth to quickly understand the process and directly design the footprint into the process design for maximum cost savings. Amarinth was also able to spend more time walking through and explaining cost variations alongside the design decisions with ZADCO at an early stage, minimising the risk of additional costs or surprises later in the project.
Oliver Brigginshaw, managing director of Amarinth, commented: "As the oil and gas industry seeks to reduce costs, it is not only in the product design that we can deliver against this but also in the way we conduct business. Both ZADCO and ourselves were delighted with the savings made on this project utilising our video conferencing suite across all stages of the project and we look forward to working with other customers in the same way so that they too can realise the benefits."
---