Amarinth supplies pumps for the ADNOC Al Mandous oil storage facility
06 August, 2020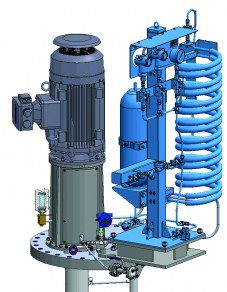 Amarinth – the company specialising in the design, application and manufacture of centrifugal pumps and associated equipment to the oil & gas, petrochemical, LNG, chemical, industrial, power and desalination markets – has supplied four API 610 VS4 pumps to ADNOC for the Al Mandous underground oil storage project.
ADNOC is building what is claimed to be the world's largest underground oil storage facility with a capacity of 42 million barrels of crude oil. The oil storage mega facility in the Emirate of Fujairah, UAE will consist of three underground storage caverns each with a capacity of 14 million barrels, deep below ground level.
Amarinth was selected following the company's successful delivery and continued support of pumps for previous demanding ADNOC projects. The four API 610 11th edition VS4 vertical pumps are 4m long transfer pumps and are supplied with Plan 53B seal support systems.
The pumps are manufactured in D2 super duplex stainless steel to ADNOC specification, which includes Shell DEP standards. The available footprint for the pumps was limited and so Amarinth designed a bespoke baseplate on which to mount the Plan 53B seal support systems which reduced the overall space required.
[subhead] On-time delivery
Oliver Brigginshaw, managing director of Amarinth, comments: "We are delighted that ADNOC once again asked Amarinth to supply pumps for a challenging project. We have built an in-depth understanding of ADNOC specifications from previous successful projects and so have been able to once again deliver on time to ADNOC against the requirements of this project."
Image caption - Computer generated render showing bespoke base plate design housing the API 610 VS4 pump and Plan 53B seal support system.
---