Champion launches its newest rotary screw compressors
03 September, 2019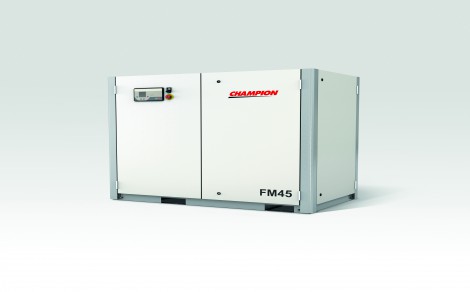 Champion has launched its next generation rotary screw compressors, claimed to offer reliable, economical and efficient performance in a completely new package.
Available in both fixed and variable speeds, the new 30-75 kW rotary screw compressor series delivers the highest levels of reliability and performance with low operating costs throughout the compressor's life. The range's high-efficiency integrated airend is designed and made in-house, with compression elements manufactured using the latest CNC rotor grinding machinery, coupled with laser technology to maintain precise manufacturing tolerances. The airend's integrated design also makes it a very compact solution.
The compressor's service life and durability are further maximised by replacing elastomer and thermostatic piping and tubing in the system's pressure lines, with corrosion-resistant, stainless-steel tubing and passive zinc-coated, carbon steel piping. For ease of maintenance, the connection is completed with viton-sealed, grooved couplings and self-sealing high-pressure compression fittings.
Direct or gear drive coupling
With direct or gear drive coupling, the belt-free FM 30-75 kW series is said to be able to reduce transmission losses, improve efficiency and reduce noise. Most importantly, Champion claims it delivers greater reliability and reduced maintenance costs.
The right variable speed compressor in the right application delivers significant energy savings and a stable, consistent air supply. The new range's variable speed technology allows for substantial energy savings of at least 25%. The units are fitted with a C-PRO 2.0 controller, which automatically adjusts compressor performance to meet changing air demands. In addition, the C-PRO 2.0 features extra functions, such as drive status display and flexible PID setting, according to the application. Changing the discharge pressure is as easy as pressing a button.
Designed to be simple to service, access to the unit is quick and straight-forward, with all doors removed in just seconds. Serviceable components, including filters, are easily accessible and no piping needs to be disconnected to work on the separator. Also, thanks to its optimum cooling system, the compressor can work in high ambient temperatures of up to 46 degrees.
www.championairtech.com
---