Champion extends compressor range
05 September, 2018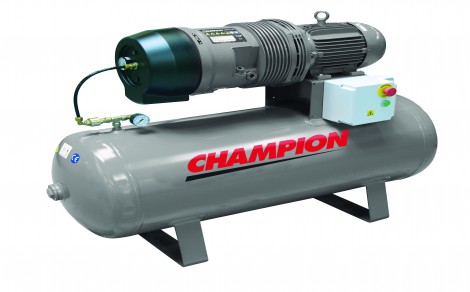 Champion has extended its compressor range to include new screw, piston, rotary vane, scroll and portable models, offering a best-in-class portfolio for small and medium-sized industrial businesses.
Compressed air is used in an extensive range of industrial applications, such as pneumatic conveying, spray guns, air-powered tools and equipment, shot blasting for cleaning, and cooling and heating processes. Available now, the new Champion range offers operators a smart and affordable compressed air solution for these applications.
Vince Blower, sales director at Champion, said: "With our extended Champion range, we can offer a smart and affordable compressed air unit that is capable of meeting the needs of customers in small and medium-sized industrial businesses. Covering screw, piston, rotary vane, scroll and portable technology, we have a solution for an extensive range of industrial applications, building on our already established reputation for high-quality, high-performance compressors."
Screw compressors
Available in both fixed and variable speeds, Champion's oil-lubricated, single stage rotary screw compressors provide pressure ranges from 5 to 13 bar, in models ranging from 2.2 kW to 75 kW. Featuring an energy efficient airend design, the units are fitted with user-friendly C-PRO 1.0 and C-Master controllers to ensure the screw models deliver consistent, high-quality and efficient compressed air. Extended warranties from two to five years are available on Champion's screw compressor range.
Piston compressors
Reliable, robust and long-lasting, Champion's piston compressor range is offered in oil-free and oil-lubricated to meet a business' specific needs. Generating extremely low levels of noise and fitted with integrated control panels, the Champion piston range has been designed with ease of use and servicing in mind. The units' high-quality piston technology ensures long-lasting performance, helping to reduce an owner's total cost of ownership. The range is available in models from 0.75 kW to 7.5 kW, with pressure range from 8 to 12 bar.
Rotary vane compressors
Champion's compact rotary vane compressors provide high-quality, clean compressed air. Rotary vane technology does not require gears or a belt, resulting in a quiet air solution that can be used by operators at the point of use. Each rotary vane unit provides upwards of 100,000 operating hours, due to their simple, low-speed direct drive design. The Champion rotary vane range is offered in models from 1.1 kW to 4 kW, with a pressure range of 10 bar.
Scroll compressors
Meeting stringent air purity standards, Champion's oil-free scroll technology is ISO 8573-1 Class 0 compliant for environments where air quality cannot be compromised. The screw compressor is offered in two different series: the Simplex and the Duplex. The former is offered in 4 kW to 7.5 kW models, while the latter is available in 7 kW to 15 kW models. Delivering efficient and quiet operation, operators can upgrade to a deluxe HMI electronic controller that can monitor compressor performance from any computer or mobile device, delivering even greater control.
Portable compressors
Weighing only 165 kg, the CMP series of portable screw compressors are easy to operate and energy efficient, for even the most demanding industrial environments. Powered by a Honda GX 630V air-cooled petrol engine, the portable range features a helpful electric start as standard. Ideally suited for a wide range of repair and installation applications where a larger compressed air unit is simply not an option, Champion's small and lightweight portable compressor range offers a powerful alternative to electrical tools.
---