TRAPPED PRESSURE AND QUICK RELEASE COUPLINGS
06 August, 2019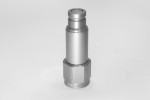 HOLMBURY says it has been in the business of offering quick release couplings (or "QRC's") for over 30 years and has one of the most comprehensive product ranges on the market but recently it discovered a very interesting fact.
During the recent PlantWorx 2019 exhibition it discovered that more than 60% of people, who visited its stand, stated that their biggest day to day issue concerning QRC's was dealing with trapped pressure.
Air entering the system from the pump side is a common problem and cavitation as this phenomenon is commonly called, can be caused by a variety of factors. Air or fluid loss can occur at a variety of different places such as valves, hose fittings or even the hose itself and a further, often overlooked, culprit can be thermal expansion of the media. This can occur when high temperatures generated within the system decrease the density of the hydraulic oil which in turn leads to an increased volume/expansion and trapped pressure.
The good news is that Holmbury says it has a variety of solutions available, but people seem to be unaware for example one of the most commonly used couplings, the ISO16028 flat faced male, is not designed to be connected under pressure. The Holmbury HCP series male is fully interchangeable with this and is designed to be connected under pressure.
Click here to read the full unedited version of the release as provided by the company
---