Finnpower hose assembly machines available from hydraPower-dynamics
08 December, 2022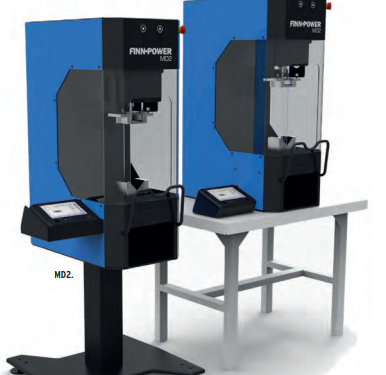 The recently launched air pressure operated IM2 from Finn-Power is an ergonomic fitting pre-assembling machine for hoses up to 3". According to its UK reseller hydraPower-dynamics, IM2 makes fitting assembling quick and easy. Optional stand with adjustable feeding angle enables optimal ergonomy for different type of hoses.
Technical data
Capacity (inches) 3
Max. Hose outer diameter (mm) 100
Max. Inserting force (KN) 6.2
Max. Clamping force (KN) 4.0 Max.
Pressure (Bar) 8.00
Dimensions (LxWxH)
M2 table-model (mm) 1017x733X649
IM2 with stand (mm) 1017x733x1280
Weight (KG/LBS)
M2 table-model 105/231
IM2 with stand 140/308
Standard features
Pushing pressure adjustment
Clamping pressure adjustment
Adjustable centring position with scale
Adjustable hose feeding angle (requires stand)
Options
Standard tool set
Stand
MD2 - Dot Peen marking machine
MD2 - Dot Peen marking machine offers method for economic and permanent marking. MD2 provides tamper-proof marking which is ideal for harsh working conditions such as mining, earth moving and agriculture. MD2 can be operated independently or directly from crimping machine ICC-control.
Technical data
Capacity (inch): 2
Marking area (mm): 50x90
Marking depth (steel) (mm): 0.5
Marking speed (standard configuration) (char/sec): 3
Max pressure (bar): 8
Capabilities: TTF (text), 2D-codes, arcs, logos
Dimensions (LxWxH)
744x718x1500
Authorised reseller
hydraPower-dynamics is the authorised reseller and service provider of FinnPower machinery and equipment in the UK. HydraPower dynamics has been a Finn-Power distributor for over 35 years. Each year Finn-Power manufactures thousands of crimping, cutting, expanding, inserting, marking and testing machines.
Finnpower is known worldwide for the quality and workmanship of its machines, boasting over 50 years of knowledge on all things hydraulic. Finn-Power offers crimping machines to meet the demands of an everincreasing range of customer requirements. With the advent of the ICC and SCC control systems, more and more products can be crimped as opposed to welding, spinning and other forms of metal forming or manipulation. Each machine is carefully tested upon completion of manufacture.
https://twitter.com/hydrapowerdynam
https://www.linkedin.com/company/hydrapower-dynamics/
https://twitter.com/finnpoweruk
https://www.linkedin.com/showcase/finn-power-hydrapower/
---