Engineers in the making find a home in two new engineering institutions for children
27 June, 2019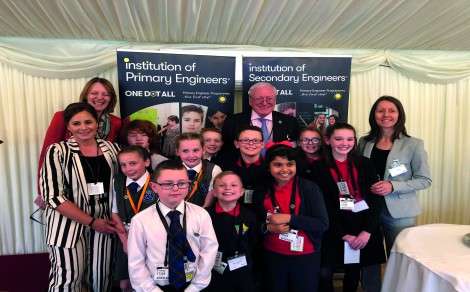 A 15-year mission to bring engineering into primary classrooms has taken its most ambitious step yet in May as Primary Engineer officially launched The Institution of Primary Engineers and The Institution of Secondary Engineers.
Both Institutions have been built for the digital age and are set to change the way skills are taught and nurtured in schools. They will help provide the foundation to challenge the widening engineering skills-gap and improve school pupils' career pathways and employability through close collaboration with pupils, educators, industry, the STEM community and parents.
Dr Susan Scurlock, MBE, founder of Primary Engineer and creator of the two Institutions said: "The primary school children of today will, within the next quarter of a century, be the original thinkers, problem solvers, and collaborators that change the world. The Institutions of Primary and Secondary Engineers will empower children to navigate a pathway to work while identifying, building and supporting engineers in the making. This is the beginning of a cycle that will embed fundamental skills in children from a very young age providing them with the foundation for their and our future."
The two Institutions have been designed to help pupils and teachers structure skills, both personal and those closely related to engineering, and the wider STEM curriculum continuously throughout a pupil's educational journey. Delivered via an online portal they allow teachers to create, access and evaluate projects while keeping track of the skills their school delivers.
Coherent structure
Professor John Perkins CBE FREng, author of The Perkins Review of Engineering Skills said at the launch: "The Institutions will provide the framework for bringing together STEM initiatives and education into a single, cohesive journey for children that will track and celebrate their progress as they move through the education system. Too often, young people's experience of STEM related activities, either as part of the curriculum in schools, or through outreach by industry or voluntary organisations, feels patchy and a little random. The Institutions are designed to provide a coherent structure to help overcome this problem."
The structure of the Institutions revolves around an ongoing partnership with industry sectors, educators and the STEM universe. Early adopters from the Energy and Utilities Sector EU Skills UK and from industry with WEIR Group, demonstrate a commitment to nurturing skills early-on as a vital and necessary investment in the future of their industries.
Full commitment
Nick Ellins, chief executive of Energy & Utility Skills Group said: "It is my pleasure to announce a partnership between Energy & Utility Skills and Primary Engineer. Our organisations are fully committed to helping school children to engage with engineering in fresh and innovative ways, and to connect them with employers that will truly value and nurture their abilities for the future."
---
AIR-TECH EXHIBITION


16 April, 2024, 9:30 - 18 April, 2024, 4:00




Hall 9, the NEC, Birmingham, UK

FLUID POWER & SYSTEMS EXHIBITION


16 April, 2024, 9:30 - 18 April, 2024, 4:00




Hall 9, the NEC, Birmingham, UK