How children can still get into STEM during lockdown and beyond
30 July, 2020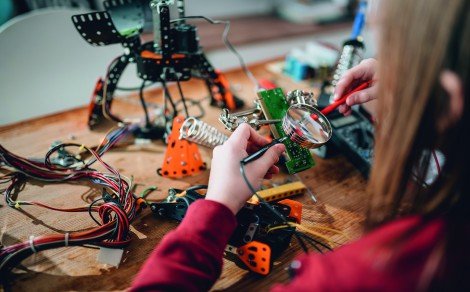 With the coronavirus pandemic still ongoing many parents became substitute science, technology, engineering and mathematics (STEM) teachers without the training while they waited for the schools to re-open. However, there is still a lot that can be done to help children learn these key skills. These academic STEM disciplines are taught to children through school curriculums and are used in practice by adults who choose to go down one of the four routes for their career.
With gaps in the industry already a potential headache for employers, it could be argued that it has never been more important for children to learn, develop and ultimately help plug the gaps that currently exist in the industry. Here, we highlight what can be done, how to do it, and celebrate those who have gone the extra mile to keep STEM at the forefront of everyone's minds.
Plenty of play time
In such a digital and technologically advanced age, toys such as robots and computers can keep children entertained for hours. At the same time, parents will see that they are happy and learning. With this in mind, it may come as a surprise to many parents across the UK that children playing with STEM toys can, without even knowing it, strengthen their neurological development and develop a much better understanding of science, technology, engineering, and mathematics.
Physically building a robot and learning code to train a digital robot are great ways to incorporate STEM and play. Don't want your children sitting at a computer all day? Toy diggers are a great way to teach them more about engineering.
Children can thrive from being the one to decide how they get creative, and from that freedom they benefit in many ways through play time. This is backed up by a clinical report by the American Academy of Pediatrics, which states: "Play is essential to development because it contributes to the cognitive, physical, social, and emotional well-being of children."
Keeping children on track
During lockdown we've seen everything from fast food chains sharing recipes for popular menu items to the UK government explaining how to make face masks from old t-shirts. The world of STEM has been no different, with the likes of Network Rail and Glasgow-based IT consultancy firm, CGI, putting together learning packs for children.
Formed around trains and engineering, Network Rail's pack contains tasks and activities for ages between five and 16. With the majority of their staff classed as critical workers by the government the resources come in very handy for parents who are juggling home-schooling and work. But, not just that, it could well inspire the children of those in the rail industry to follow in their footsteps and climb the STEM career ladder.
---