KTR UK welcomes new national distribution manager
08 March, 2019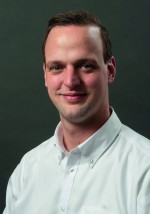 Power transmission component manufacturer KTR UK has appointed Mark Humphrey as its new business development manager in charge of Distribution.
The 28-year-old will be tasked with working on a national level with KTR's existing distribution network, as well as identifying and developing opportunities with new business.
Humphrey joins the firm from a previous role as product development manager at Proctor & Gamble, where he worked in a regional role tasked with develop of product stock programs and building relationships within the industry.
He said: "I'm excited to be joining the team at KTR and meeting the challenges of working in a new industry. KTR UK has a great reputation for quality which is always a great starting point for promoting products and building relationships. I'd like to think my own experience outside the power transmission industry can bring some fresh ideas and the support I've received already has been great. I've always enjoyed the customer side of business and look forward to making some new connections and building new relationships."
KTR UK, based in Sheffield, is a fully owned subsidiary of German coupling manufacturer KTR Systems GmbH, a company with over 60 years' experience in the design and production of coupling for rotating power transmission.
---
AIR-TECH EXHIBITION


16 April, 2024, 9:30 - 18 April, 2024, 4:00




Hall 9, the NEC, Birmingham, UK

FLUID POWER & SYSTEMS EXHIBITION


16 April, 2024, 9:30 - 18 April, 2024, 4:00




Hall 9, the NEC, Birmingham, UK