Zeus welcomes new business administrator
31 January, 2019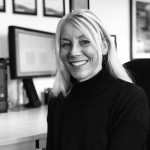 Zeus Hydratech Ltd., the official UK distributor for Continental Hydraulics and Daikin Hydraulics components, has appointed Claire Blewitt as its new business administrator (working from the company's Bristol based facility in Paulton).
Blewitt brings a wealth of experience from multiple fast-paced environments; including the recruitment and health care sectors, both of which are challenging environments and require a high level of organisation and discipline.
Oliver Starr, managing director and owner of Zeus Hydratech said: "From day one, Claire stood out as being an energetic, well-organised and focused individual, I knew then she would be the perfect fit for Zeus Hydratech. Claire will play a key role in the integration of a new CRM system followed by daily involvement with accounts and administration. We laid out our growth plans for the next 3 years and the requirement for assistance internally was immediately apparent, Claire's valuable input will mean our internal sales engineers will be in a stronger position to increase sales turnover and provide a strong customer support network."
Blewitt said she was excited to join the team at Zeus Hydratech and was looking forward to the challenges ahead, in particular being involved with the company during this period of growth.
---