A new era begins
02 January, 2019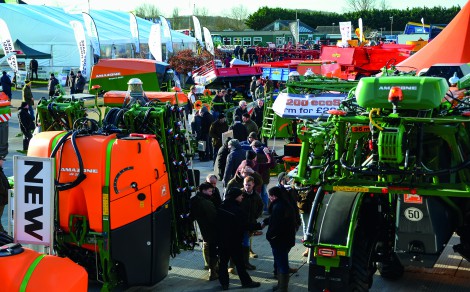 An exciting new era for LAMMA is about to begin when it opens its doors for the first time at the NEC in Birmingham from Tuesday 8 and Wednesday 9 January 2019.
The move promises a whole new experience for visitors, with all stands at the UK's leading agricultural event being fully under cover for the first time in its history.
LAMMA '19, which continues to offer free entry and car parking, will build on the show's reputation as a key diary event for farmers, contractors, other rural businesses and their staff.
The 11 halls at the NEC are set to host more than 600 exhibitors who will show a vast array of the latest machinery, equipment and services to suit all sectors of the industry, whatever the budget.
Opportunities
Elisabeth Mork-Eidem, group events director at AgriBriefing, which owns LAMMA, said: "We are excited by the opportunities that the NEC creates for the LAMMA show. The NEC enjoys great links with the rest of the UK, making visiting LAMMA easier than ever.
"The new venue provides a professional, comfortable indoor venue that is appropriate for this key event in the agricultural calendar. Both visitor and exhibitor feedback has been incredibly supportive, with a lot of real excitement regarding this important development for the UK agricultural industry."
The show will retain its informal, friendly atmosphere, which has helped make it such a draw with farmers from across the UK and beyond.
Mork-Eidem added: "Visitors will have a unique opportunity to explore the latest innovative technology from a wide range of companies, speak to the experts and see all the kit up close – and all whilst staying warm and dry."
Practically all agricultural machinery and equipment will be represented in one form or another, including the latest tractors, combines, drills and cultivation kit, some of it on view for the first time.
However, the event will stay true to its roots, attracting not just large machinery manufacturers but also smaller agricultural engineering and machinery firms from across the UK. They will be showcasing a wide range of products and services, including new tackle, novel technology and every type of tool imaginable.
Combination of large and small
This combination of large and small, unique on this scale in the UK, gives visitors access to more innovative products than anywhere else on one site in the country. They can see these new products and compare them in real life and quiz the manufacturers and suppliers face-to-face.
The UK's largest agricultural show provides exhibitors with a platform to introduce ground-breaking innovations to the market and 2019 will see the re-launch of The LAMMA Innovation Awards at the NEC.
This competition champions agricultural machinery, equipment and services innovations that are mindful in their impact on the environment, a sustainable concept, practical in their use and progressive in their design or safety features.
---