Gardner Denver guide to eliminating air quality risks
17 December, 2018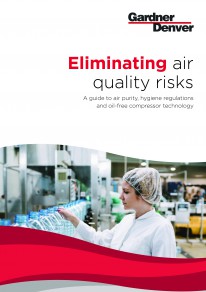 Industrial compressor and vacuum solutions provider, Gardner Denver, has released a new guide, identifying the hygiene regulations covering compressed air and how businesses can eliminate air quality risks.
Available to download for free from http://ora.cl/Ez49O, the guide details the standards in place governing compressed air quality and ensuring production environments remain free from potential pollutants. These include ISO 8573 – a group of international standards stipulating compressed air purity and quality – and the principles of the Hazard Analysis Critical Control Point (HACCP).
It also describes the benefits of oil-free compressors for sensitive production environments that require a consistent supply of contaminant-free air, and the different types of oil-free compressor technology available, including Gardner Denver's Ultima system.
Further methods site owners and operators can adopt to reduce contamination risks are also included, such as purchasing oil-free vacuum pumps.
Keith Atkinson, EMEAI sales manager at Gardner Denver, said: "Contaminated compressed air can lead to reduced performance, product spoilage and damaged production equipment, all of which can result in additional costs and unexpected downtime. We believe that by being aware of the standards that govern compressed air quality, the benefits of oil-free technology and further anti-contamination measures, businesses can avoid such issues.
"We want to help businesses avoid these issues. Our free guide, available at http://ora.cl/Ez49O, demonstrates the risks associated with contaminated air and outlines what can be done to alleviate them. We hope compressed air users, particularly those in production sensitive sites, find the guide useful."
---