Beko Technologies provides compressed air to one of the world's oldest universities
31 October, 2018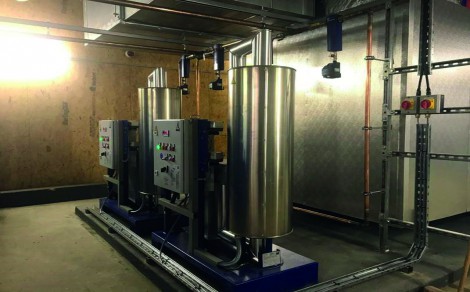 A prestigious university in the South of England was looking for an alternative to oil free compressors for its laboratory. Beko Technologies supplied the Bekokat unit ensuring the highest levels of both oil free and bacteria free compressed air.
The university is rich in history – its famous colleges and university buildings attract visitors from all over the world. However, the university's museums and collections also hold many treasures which give an exciting insight into some of the scholarly activities, both past and present, of its academics and students.
Leading academic centre
The university is one of the world's oldest universities and leading academic centres, and a self-governed community of scholars. Its reputation for outstanding academic achievement is known worldwide and reflects the intellectual achievement of its students, as well as the world-class original research carried out by the staff of the university and the colleges.
With thousands of students from all walks of life and all corners of the world, 31 colleges and 150 departments, faculties, schools and other institutions, no two days are ever the same at this university.
The university had looked at various different ways to achieve oil free compressed air. Looking at the conventional route of oil free compressors would not guarantee oil free air without additional treatment. This would also have a very large capital expenditure with huge ongoing maintenance costs.
Beko Technologies was asked to help and recommended the Bekokat catalytic converter system to all companies that were tendering for the supply and installation of the compressed air plant.
Constantly oil-free compressed air
Beko Technologies comments that Bekokat sets new standards in compressed air processing with pioneering catalytic converter technology. The unit fully converts hydrocarbons into carbon dioxide and water through total oxidation. The method provides constantly oil-free compressed air with a maximum residual oil content of a barely measurable 0.001 milligram per cubic metre. With this performance, the Bekokat units surpass even the most stringent specifications of ISO 8573-1, Class 1 oil content. A quality that is required in particularly demanding processes.
Flexibility
This system would therefore guarantee both oil free & bacteria free compressed air regardless of ambient conditions, providing the university with the flexibility to use oil lubricated compressors. The use of oil lubricated compressors allows for a lower capital expenditure, ongoing maintenance and electrical energy cost whilst providing a much purer level of compressed air.
On Beko Technologies' recommendation, the university decided to place an order for 2 Bekokat catalytic converters, which to date are reportedly running very well.
Elaborate testing
The higher the demands on the quality of compressed air, the greater the demands for documentation. Quality management requires the use of specific devices and a corresponding independent verification. Beko Technologies provides this verification by utilising elaborate tests from independent institutes, which confirm and certify the performance capability for the Bekokat.
www.beko-technologies.com/en-gb/gb
---
AIR-TECH EXHIBITION


16 April, 2024, 9:30 - 18 April, 2024, 4:00




Hall 9, the NEC, Birmingham, UK

FLUID POWER & SYSTEMS EXHIBITION


16 April, 2024, 9:30 - 18 April, 2024, 4:00




Hall 9, the NEC, Birmingham, UK