Hertz Kompressoren makes the cut at Advanced Alloys
13 December, 2018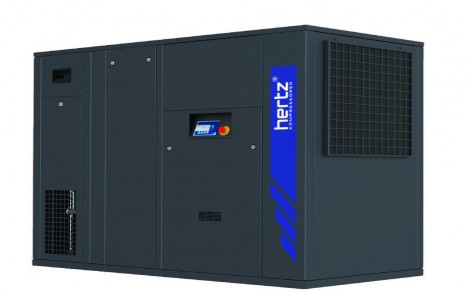 Hertz Kompressoren has supplied a complete air compressor and dryer system to Advanced Alloys Services Ltd. in Sheffield. The system comprises an HSC 37kW compressor. with integrated refrigerant dryer complete with pre and after filtration and a Hertz HAR 900 litre receiver.
Advanced Alloys is a provider of special alloys cut to size and supplied mainly to customers within the aerospace, exploration and medial industries. For Advanced Alloys, a reliable source of compressed air is vital to ensure oil can be turned efficiently; ensuring clean, accurately cut parts can be supplied to customers.
Hertz HSC series air compressors are suitable to use in every kind of application, offering high performance and trouble-free generation for small- and medium-sized companies. They are manufactured in accordance with international quality standards and are available in base-mounted, receiver-mounted and receiver mounted with dryer and line filter versions.
Gary Middleton, engineering manager at Advance Alloys, made the decision to source the system having used similar equipment supplied by Hertz Kompressoren at a previous engineering company for over 10 years. After his appointment at Advance Alloys his previous experience of the compressors convinced him that the Hertz would again be the right supplier. "I chose the Hertz compressor because I like its design and ease of use," he explained. "Also, when the time comes for the compressor to be serviced this is a usually a very simple and quick process. My experience with the Hertz compressor spans over a decade and over that time I have not experienced many issues."
Middleton continued: "The people I deal with at Hertz Kompressoren – Graeme and Meltem Middleton-Duff – are always very helpful and are very knowledgeable. If any issues arise, they are very quickly rectified. I would have no doubt in recommending Hertz' HSC compressors to other companies."
---