Han-Modular Pneumatic Module Metal for flexible production
16 November, 2018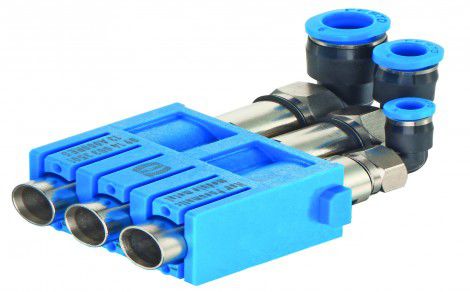 In order to meet the increased demands on industrial interfaces in flexible production applications, Harting has developed a new pneumatic connector module – the Han Pneumatic Module Metal.
The new module features robust and durable metal contacts and can be plugged/unplugged at least 10,000 times. The new module allows users to take advantage of compressed air control in production plants which are often reconfigured, e.g. in power drives, controls, brakes, holding and unloading devices.
More space
Angled Han pneumatic metal contacts allow more space for wiring in the connector housing.
The new interface is characterised by an increased maximum operating pressure. Instead of the previous upper limit of 8 bar (Han Pneumatic Module with plastic contacts), the contacts can now withstand a constant pressure of 10 bar, covering the entire 'low-pressure' range. This expands the number of possible applications for pluggable compressed air distribution systems.
In addition to Han Pneumatic Metal contacts, Harting also offers pneumatic contacts with angled connections which simplifies the assembly of the pneumatic modules. Where there is little wiring space available in housings, the angled pneumatic contacts ensure that the bending radii of the pneumatic hoses do not fail to meet minimum dimensions.
As a result, malfunctions are prevented during assembly. The angled versions of the pneumatic pin and female contacts for the Metal are also equipped with push-In connection technology.
Compatibility
The angled variants increase the number of housings available for pneumatic applications. Since guide pins and sockets are no longer needed, use in all housings compatible with the Han-Modular series is possible, including Han-Eco, Han-Yellock, Han A, and Han B – with no restrictions.
In order to simplify the interface design for the new product, Harting offers a booklet with detailed technical information and installation instructions for the Han Pneumatic Module Metal.
---
AIR-TECH EXHIBITION


16 April, 2024, 9:30 - 18 April, 2024, 4:00




Hall 9, the NEC, Birmingham, UK

FLUID POWER & SYSTEMS EXHIBITION


16 April, 2024, 9:30 - 18 April, 2024, 4:00




Hall 9, the NEC, Birmingham, UK