Design enhancements underpin new Norgren cylinder for harsh operating applications
16 July, 2020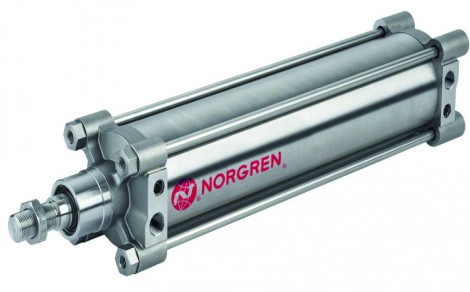 A new and improved Norgren stainless steel ISOLine KA/802000 cylinder has been launched by Norgren, which is claimed by the company to provide an ideal solution for industrial applications operating in harsh environments.
Building on the proven reliability of the ISO cylinder range, the KA/802000 cylinder replaces the KA/8000 version and offers a series of additional features and operational benefits.
Robust construction
Conforming to ISO15552, the new cylinder uses high-quality stainless steel, making it highly resistant to the corrosive effects of process, chemical and washdown applications where operating environments are unsuitable for traditional ISO cylinders.
Improved design
Design enhancements have been specified on the new range, including new end covers that incorporate a smoother design to aid cleaning tasks, whilst the contoured finish improves the cylinder's appearance. The piston rod has a roller burnished finish, with both the barrel and tie-rods manufactured from stainless steel for guaranteed longevity and robustness.
Additional enhancements include improved low-pressure performance delivering smooth piston movement, lower leakage rates enabling the cylinder to retain pressure for longer in lock-out systems, and the inclusion of a QR code to provide a quick link to product information.
Reduced weight
The KA/802000 cylinder benefits from a significant weight reduction compared with the previous stainless steel range, which provides improved efficiencies for mobile applications and reduced transportation costs.
Adaptive Cushioning System (ACS)
The new Stainless Steel ISOLine KA/802000 cylinder benefits from proven ACS technology. Users can simply fit and forget with no specialist knowledge required for set-up or cushion setting. ACS can help extend the service life of machines as it adjusts to changing conditions.
Product choice and availability
Nine size options are available across the Norgren Stainless Steel ISOLine KA/802000 cylinder range, from 32 to 200mm bore size. And, the Stainless Steel ISOLine KA/802000 cylinder is also accompanied by an extensive range of flexible switch options which can be mounted on all cylinder faces, as well as a range of stainless steel mountings.
---