Pumps for high-pressure, high-temperature applications
09 February, 2022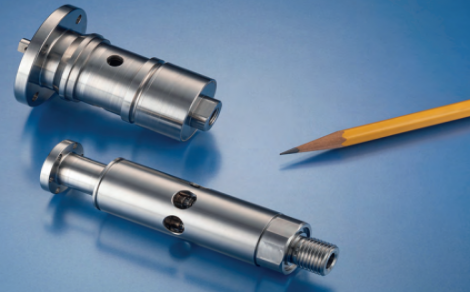 A new positive displacement axial piston pump which offers outstanding performance in high-pressure, hightemperature applications has been introduced by Precision Micro-hydraulic specialist, The Lee Company.
The HPHT family of pumps can generate up to 10,000 psid (690 bar) at temperatures of 400degF (200degC) so are claimed by the company to be ideal for critical hydraulic fluids transfer applications such as down hole oil tools and aerospace.
An important benefit of the innovative axial piston design of these pumps is that they don't contain any elastomers, which increases resistance to contamination and significantly improves reliability in the most challenging applications. Also, the 32mm pump is a simple, drop-in replacement for existing pumps which are restricted to lower temperature applications due to the inclusion of elastomeric seals.
Able to withstand high levels of shock and vibration
While HTHP pumps are officially rated to produce pressures of 10,000psi. The Lee Company states they have the capability of producing even higher pressures and are qualified for over 1000 hours of operation and will withstand high levels of shock and vibration. They are designed to be driven by a Maxon Motor, with or without a gearbox and drive couplings are available separately.
The pumps are available in 22mm and 30mm diameter options for packaging flexibility, benefits which will be especially appreciated in limited space applications, such as down hole. Cylindrical Hi-Bar inlet screens which slide onto the pump body are also available as an option. The pumps can be customised to meet specific application requirements, such as altering the mounting configuration, or the inlet and outlet connections.
https://www.linkedin.com/company/the-lee-company/
---