Reducing the chance of human error
26 September, 2017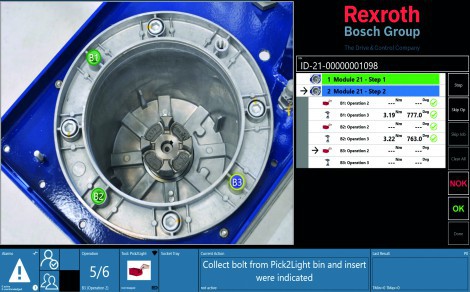 One of the main issues associated with manual assembly processes is human error – with potentially costly ramifications that manufacturers can ill-afford if they wish to remain competitive. To tackle the issue, drive and control specialist Bosch Rexroth has developed a step-by-step virtual guidance system to support workers in a production environment.
Designed to simplify manual production processes, the new Operator Guidance System (OGS) helps optimise quality and traceability, while simplifying the task for users. Following initial set-up, OGS provides on-screen, step-by-step instructions ensuring the correct components and tools are used for each process. This ultimately eliminates the risk of incorrect part fitting or tool selection, reducing rework time, potential damage and delays in production.
Low-cost solution
Designed from the start to be a low-cost solution, OGS is a Windows 10 application that can function on an entry level PC. Every process is recorded by the system, helping issues to be addressed immediately. Similarly, once a job is complete, results are automatically saved, creating a clear audit trail. In turn, this data can be used for end of line buy off, product re-work and long-term traceability.
Stuart Williams, emerging technologies manager at Bosch Rexroth, said: "Complex manual production lines can be subject to human error as they often rely on an 'expert' worker who knows the process for a particular operation. This often leads to an uncontrolled and un-auditable process coupled with a complete lack of flexibility when redeploying workers with changing production targets.
"Also, manufacturers build their reputation on quality and efficiency – once tarnished, it can be difficult to rectify. In a bid to help manufacturers remain competitive and improve efficiency, our new Operator Guidance System provides the ideal solution. OGS will transform the way manual assembly lines operate for the better. It will make human error almost impossible and optimise quality and traceability. Crucially, by using OGS manufacturers can maintain reputations and keep costs down. The time and resources to train workers is also reduced, as there is always a clear picture and instruction what to do next."
---