The first step towards compressed air efficiency takes just 10 minutes
24 October, 2018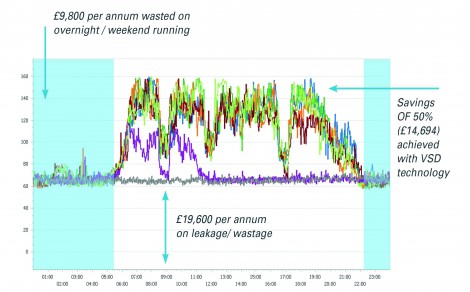 One barrier to energy savings is the perception that assessing the efficiency of an air compressor network is disruptive and time consuming. In this article Stef Lievens, business line manager for Industrial Air at Atlas Copco Compressors UK, argues that, when approached correctly, the process can be efficient, fast and hassle-free.
When conducted responsibly, compressed air energy audits can quickly flag-up no-obligation opportunities for improvements and energy savings that companies can either implement themselves or work with their partners to realise.
This is particularly pertinent for companies seeking to implement an energy management system while working towards achieving ISO50001. There's also a strong case for companies that need to comply with Phase 2 of ESOS, which requires participating companies to conduct audits to identify cost-effective energy-efficiency opportunities.
As air compressors typically consume between 10 to 12% of a factory's electricity, and sometimes up to 30 per cent, the potential for realising energy savings by conducting a compressed air energy audit shouldn't be overlooked.
Thankfully, the initial step couldn't be any easier and involves a visual assessment, such as a free #airCHECK service, that can be conducted in as little as 10 minutes; without any disruption to production. By nature, this type of exercise is intended to flag-up 'quick-win' opportunities for end users to fix costly air leaks and address inefficient operating practices; such as leaving compressors to run during periods of low-demand like evenings and weekends.
Quick check
Some companies may be under the illusion that their compressed air system is highly efficient, or simply happy that it is operating sufficiently. In either case, it causes no harm to undertake a quick #airCHECK, which can also be used to highlight whether a compressed air system is non-compliant or losing serious money.
For those wishing to investigate the potential savings in more depth, the next stage is to perform a straightforward data-logging exercise; such as an iiTrak system energy audit. Again, this type of no-obligation service is intended to be unobtrusive, with the required hardware usually taking less than 15 minutes to install. After set-up, the data logging device is left to operate for a one-week period, during which AIRchitect software intelligently analyses compressed air usage patterns.
Following this, participating companies will receive a free and detailed report, outlining where compressed air production improvements or opportunities to reduce energy consumption could be made; as well as highlighting any non-conformance with ISO standards. It's at this stage when participating in an energy audit usually shows its true value. This is because the potential process and production enhancements, not to mention financial savings, are often compelling enough to enable a plant or energy manager to make a very strong business case for their organisation to invest in a compressed air upgrade.
---