Allswage celebrates 40 Years
30 August, 2023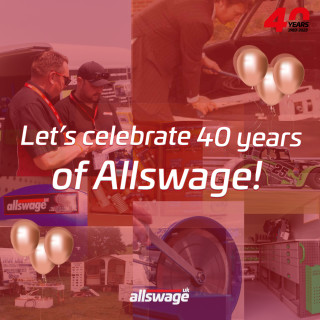 Hose assembly equipment company, Allswage, is celebrating its 40th anniversary in 2023. The milestone represents not only a significant achievement for Allswage but also a testament to the invaluable experience it brings to its customers.
Allswage's roots trace back to the early 80s when David West founded the company under the name "Albion Hose." Beyond their dedication to hose assembly, many on the Allswage team share a passion for West Bromwich Albion, aligning with iconic figures such as Julie Walters, Lenny Henry, and Frank Skinner as devoted fans.
While the name later changed to Allswage Ltd, the company's headquarters remains in West Bromwich, upholding their original connection to the community. The journey began by selling and servicing the popular Beattie swaging system, with a significant portion of their business involving the export of hoses, fittings, and swaging equipment, along with the repair of machines overseas.
However, a pivotal moment came in the mid-90s when Allswage sought a modern, high-quality swaging alternative, leading them to embrace the Techmaflex distributorship. This decision proved to be transformative, propelling Allswage to new heights in partnership with Techmaflex, a collaboration that has thrived since its inception in 1995.
A notable milestone in this journey was Allswage's debut at the International Fluid Power Exhibition (IFPEX) in 1995. This marked a significant step forward, allowing the company to showcase its expertise and forge connections in the industry. Collaboratively, Allswage and Techmaflex developed swaging heads for mobile machinery, addressing the growing demand for "on the road" hose assembly solutions.
Reflecting on this journey, David West, emphasised the company's dedication to innovation and customer solutions. The strategic partnership with Techmaflex played a pivotal role in elevating Allswage to new levels, enabling them to adapt to evolving industry needs and deliver high quality hose assembly solutions.
As Allswage commemorates its 40th anniversary, it not only celebrates its own achievements but also the lasting impact it has had on the hose assembly industry. Its commitment to quality, innovation, and customer satisfaction continues to drive its success, with a strong foundation built over four decades of serving the industry. The journey started with Albion Hose and has now evolved into Allswage Ltd, a key player in the hose assembly equipment domain, rooted in the heart of West Bromwich.
https://twitter.com/AllswageUK
https://www.linkedin.com/company/allswage-uk-limited/
---