Implementing Additive Manufacturing for hydraulic and pneumatic system components can be transformational
29 March, 2023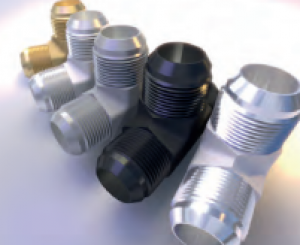 In recent years, additive manufacturing has advanced beyond prototyping. While conventional methods for producing hydraulic and pneumatic system components have been practical, the possibility of implementing additive manufacturing can be transformational. John Joyce, Marketing Director at Brennan Industries explains further.
Manufacturers that use metal additive manufacturing can respond quickly to disruptions, such as responding to today's supply chain challenges. Additionally, more flexibility in parts and production methods means greater security. By safeguarding the supply, manufacturers can find an alternative approach to supply chain assurance.
Time equals money. So, additive manufacturing helps where time-tomarket is essential. It helps to bring products to market that may not have the volume needed for utilising a more traditional manufacturing approach.
Customisation
Hydraulic and pneumatic system design often requires customisation to complete an application's unique specifications. Since hydraulic and pneumatic systems require regular maintenance, manufacturers must be able to replace components when necessary. Excluding design time, there is no cost associated with creating unique geometries, so mass customisation is possible. Additive manufacturing can become an ideal solution, as many manufacturers can face financial and technical challenges regarding the fabrication process for more complicated geometries.
Metal additive manufacturing builds 3D metal objects by layering small metal powders with a bonding agent in between each layer. Manufacturers in the automotive, aerospace, oil and gas industries have embraced metal additive manufacturing because of its ability to produce customised products.
Since hydraulic and pneumatic components can be used in many applications, customisation is strongly needed. Three-dimensional printing can drive a long-term trend of mass customisation. However, the adoption of this technology has been slow, as it can present some challenges.
Evaluation
Production processes, like the need for sustainability, have become more complicated with heightened customer demands since the pandemic. While the advantages of additive manufacturing have been made known, there are some technical and material challenges.
Additive manufacturing is a young technology, so there is a gap in development, standardisation and the qualification of materials.
There needs to be more attention before and after a part comes out of the build chamber. Pre- and post-processing is essential to ensure the right technology is chosen for serial production. For example, a part that doesn't take advantage of the additive process can drive the cost up and drive productivity down if there is lots of post-processing.
Most manufacturers see the biggest hurdle in adoption to be cost, even though it can save on lead times and part flexibility. To combat this, every part of the production process needs to reduce complexity, then additive will make sense. Some believe this can be done by implementing inspection into the fabrication process.
Regardless, a standardised procedure must be followed to maintain repeatability, consistency and quality, which are critical attributes for production. Manufacturers can map out different elements to carry on relevant standards and have an internal quality framework.
Making parts is just one part of the process. Even though there are many benefits, manufacturers must evaluate all areas within the business.
Technologies
One of the most straightforward additive manufacturing processes to comprehend is material extrusion. Layers of material are deposited onto the platform after being heated and pulled via a nozzle. Each layer is deposited while the platform goes up and down, and the nozzle travels horizontally.
Another commonly used additive manufacturing technology is binder jetting. Binder jetting is the procedure by which a liquid bonding agent is placed layer by layer to combine with powdered components on the bed. Layers of the bonding agent are deposited on the platform, and the powder material as a print head which travels horizontally along the machine
https://twitter.com/BrennanInd
https://www.linkedin.com/company/brennanindustries/
---