Hydraulic pressure monitoring for critical construction projects
28 March, 2023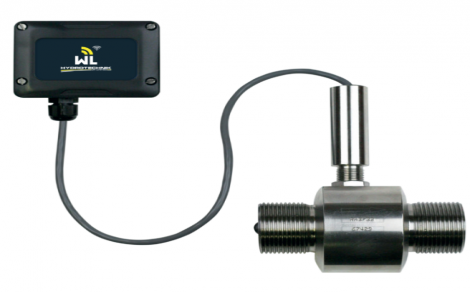 Construction projects near rivers are challenging for many reasons. Firstly, excavation can destabilise riverbanks and, secondly, excessive vibrations from machinery can threaten the integrity of existing structures. Contractors need a way of measuring the forces on a structure to prevent the foundations from cracking. A partnership between test and measurement equipment distributor Hydrotechnik and wireless remote monitoring specialist Mantracourt resulted in a pressure monitoring system for hydraulic rams supporting building foundations against the forces of the River Thames. H&P reports.
The Thames is vulnerable to tidal surges generated in the Atlantic, which are funnelled into the English Channel and up the Thames Estuary. When surges coincide with high tides, Thames' water levels can rise by more than two metres putting extra pressure on the foundations of riverbank buildings.
Nottingham-based Hydrotechnik has supplied some of the UK's biggest names in construction, including JCB and Terex Construction, with equipment for taking pressure readings. Its reliable and cost-effective sensor solutions led a contractor working in London to approach Hydrotechnik with a query. It needed to wirelessly monitor and log pressures in a hydraulic ram's cylinders to renovate a new shopping centre safely and successfully near the Thames riverbank.
The challenge was that the hydraulic rams had already been installed in the foundations for support and hydraulic pressures were always increasing at high tides, applying more force to the structure's walls. Teams of specialists would have to manually screw pressure gauges onto the hydraulic ports just to take pressure readings. Often, these ports are found in areas underwater, so manual testing wasn't practical or cost-effective. It also couldn't be carried out frequently enough to spot any threats to the structural integrity
"In the construction industry in particular, manual monitoring of hydraulic pressures can be risky", explains Richard Price, managing director and founder of Hydrotechnik. "The inspection valves are often placed in difficult-to-reach areas and human error can cause bleeds in the hydraulic system, which then causes uncontrolled unloads. This is why companies are starting to adopt a sensor-based approach to monitoring hydraulic pressures. But they too have their limitations.
"Yes, it's true that sensor-based monitoring provides a safer alternative to manual testing. However, there is still the issue of laying down cables and powering devices with limited grid infrastructure. On a building site, where many workers are present operating heavy machinery, installing electrical cables is neither cost-effective nor safe — power on-site is limited for this reason. Sensors also require periodical maintenance inspections, which will stop construction and delay project completion," continues Price."
The team at Hydrotechnik hatched a plan to integrate wireless telemetry transmitters onto the pressure sensors on the hydraulic rams, so that pressure readings could be taken in real-time, 24/7. The data would be transmitted to a base station and monitored using a PC-based data logging software.
---