The critical performance characteristics of a pressure relief valve
10 June, 2021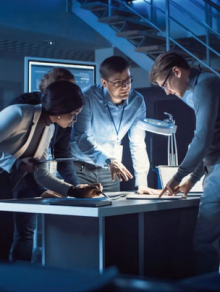 There are several factors that must be considered to ensure proper operation of a pressure relief valve within a system or pressure vessel. Neglecting to consider these factors can lead to reduced valve or system performance, damage to other components within the system, or a total system failure. The Lee Company explains the performance characteristics that should be defined when selecting a pressure relief valve.
System pressures
There are four pressure ratings that should be considered for any pressure relief valve: operating pressure, system pressure, proof pressure, and burst pressure. Operating pressures are the pressures the valve will be subject to during normal operation throughout its life, both in the relief flow direction and The critical performance characteristics of a pressure relief valve the checked, or opposite, direction. System pressure is the maximum nominal pressure that the system the valve is installed into will achieve. Proof pressure is the pressure the valve should be able to withstand without permanent deformation or degradation of performance when the system returns to operating pressure. Burst pressure is the pressure at which the valve should survive without rupturing or bursting. All four pressure ratings must be considered during design to ensure the valve and its components are durable enough for the application.
Cracking pressures
A pressure relief valve's set pressure, or cracking pressure, is the pressure at which the valve opens and begins to allow fluid to pass. The cracking pressure is based on the pressure vessel or system's design criteria and is typically defined as a nominal pressure with a tolerance or as a minimum. The minimum cracking pressure is the lowest pressure that the valve may open and implies the actual crack will occur at a pressure between the minimum and the relief flow pressure as pressure increases. If the valve opens at a pressure that is too low, there is a risk of improper valve operation or a decrease in system efficiency. Alternately, if it does not crack open and pressure increases too much, there is a risk of experiencing the issues which the valve is supposed to prevent such as deformation to the system or its subcomponents.
Flow rate
To ensure that the system pressure does not reach a critical point, the relief valve must allow a certain volume of fluid to exit within a limited period of time. This flow rate is based on the potential rate of a pressure increase (also called a pressure rise rate), the volume of fluid in the system, and the volume of fluid that needs to be displaced to alleviate the pressure increase. For example, a pressure relief valve protecting a large pressure vessel from damage due to a powerful pump malfunction requires more flow capacity than a pressure relief valve protecting a small pressure vessel from the pressure increase created by thermal expansion on a cold day.
The flow rate the valve is designed to achieve is typically defined at a specific pressure known as the flow point pressure, overpressure point, or relief flow pressure. The flow point pressure is always higher than the cracking pressure and may signify when the valve is in its fully open state, at which point it will perform as a fixed restriction. This performance criteria ensures the pressure relief valve will relieve enough fluid at a low enough pressure to prevent further increases in pressure or to reduce system pressure back to safe levels
---