Alup launches upgraded range of oil-injected air compressors
17 June, 2021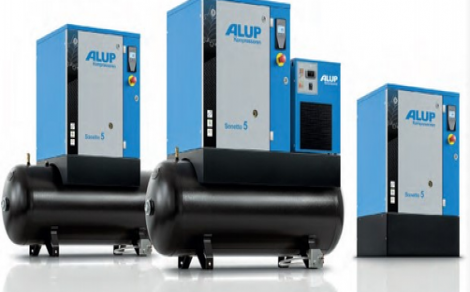 With manufacturing and service industries under pressure to reduce carbon emissions, as part of the government's 'net zero' roadmap, industrial compressor brand Alup has launched an upgraded range of oil-injected air compressors, which have a significantly lower environmental footprint.
Alup's Sonetto models feature a revamped air end element, which facilitates a market-leading increase of 15% in Free Air Delivery (FAD) output and a reduction in energy consumption on selected models of up to 12%.
At the same time, its development of a full range of options allows the compressor to operate on a low duty cycle typically seen on piston machines, where the demand for air is intermittent. The combination of an anti-condensation oil heater, tropical thermostat and a larger 500-litre air receiver thereby allows the unit to operate on very low duty cycles and avoids the issue of condensation forming within the oil.
Convenient configuration
Where there is a need for large volumes of air on continuous demand, such as an industrial production process, Alup's Sonetto belt-driven screw compressors can be configured accordingly. Units are available either floor mounted, tankmounted or tank mounted with refrigerant air dryer, the latter version delivering a 55% reduction in Global Warming Potential (GWP) over previous generation screw and dryer packages. This is a result of the change from R134a HFC refrigerant gas to R513a HFO refrigerant gas used within the refrigerant dryer. Compressor power ranges from 2.2 to 7.5kW in either 8 or 10bar versions and distributors also have the option of a pressure conversion kit for flexibility in stock holding and to ultimately ensure the end user gets exactly the right pressure unit for their application.
Offering a fully integrated configuration with combined air receiver, tank, filtration and refrigerant dryer, provides customers with a compact, silent unit, that not only costs less to install but also means it can be located closer to the point of use, requiring less pipework. Internal componentry has been designed to allow for easier maintenance and removable service panels enable quick access.
Reducing energy consumption
Mark Keen, business line manager at MultiAir UK & Ireland, which supplies the Alup brand to a network of distributors, comments: "Within the production and service industries, compressed air is often referred to as the fourth utility, so Alup remains committed to improving efficiency and performance, as well as pursuing ways of reducing energy consumption. These latest innovations to ALUP's Sonetto range of screw compressors have been developed in conjunction with customer requirements, whilst recognising the urgent need to lower carbon emissions in every sector. Improving the work environment for operators by minimising noise has also been a key factor, so these upgraded machines provide a compelling overall business solution in a challenging economic climate."
https://www.facebook.com/AlupKompressoren
---