First Enerpac Mini Lift Gantry project
17 November, 2022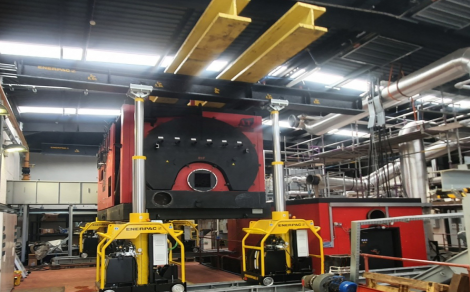 D Turners & Sons has completed its first Enerpac ML40 Mini Lift Gantry project with the removal of a 25t biomass boiler from a factory in Scotland. The low roof height and limited physical access to the boiler made the compact hydraulic gantry the ideal choice for the lifting project.
Within the boiler room's space constraints, the ML40 gantry was positioned on skid track on opposite ends of the boiler, with the front and rear base units on each side connected by lateral header beams. The two header beams were used to support two cross beams weighing 10t. Extending the gantry up to the third stage allowed the two-part boiler to be disassembled piecemeal.
The heaviest section weighed 25t ton. "The compact ML40 made it easier to access the factory and quickly position the gantry for the lift," says Lee Turner, director, D Turners & Sons. "Once we'd positioned the cross beams each boiler section was lifted, skidded and lowered for subsequent removal from the factory. Overall, a very efficient lifting operation."
Accurate and controlled lifting
The Enerpac ML40 Mini Lift Gantry is a three-stage hydraulic telescopic gantry, lifting to 5.5m at the top of the third stage and can handle loads up to 50t. Its short, collapsed height (1.97m) and narrow width (750mm) means the ML40 Mini Lift Gantry can get into spaces that other equipment cannot. The gantry can also rotate the load (up-end or down-turn) to move through the building. Using the gantry's Intelli-Lift wireless control system ensures automatic synchronisation of lifting and the electric side shifts for accurate positioning of loads.
https://www.linkedin.com/company/enerpac/
---