Hydraulic telescopic gantry is put through its paces
27 March, 2023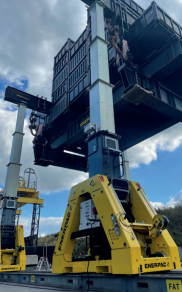 Engineers at Enerpac Heavy Lifting Technology in the Netherlands have been putting their newest hydraulic telescopic gantry, the Super Boom Lift (SBL) 600, through its paces ahead shipment to Australia. The three-stage SBL600 gantry has a lifting capacity of 6000 kN and Hydraulic telescopic gantry is put through its paces features a foldable boom, allowing ease of transportation on standard flatbed trucks. With a maximum lifting height of 10.6m, Enerpac has a rigorous testing regime for the SBL600.
Witnessed by a representative of Lloyds as third-party proof of testing, the two-part test procedure comprised: a static load test and Factory Acceptance Test. The SBL600 hydraulic gantry has a first stage lifting capacity of 6000 kN, 5000 kN at the second stage and 3700 kN at the third stage. During the static load test each individual gantry leg was subjected to 125% of its load capacity at all three stages.
The static test was followed by Factory Acceptance Testing covering all functional aspects of the gantry. This included lifting with 110% of the safe working load of the SBL600 in the upper 3rd stage (10.6m), as well as, testing all gantry movements including the travel of the machine along skid track.
Enerpac gantries are used in a wide range of working environments. During earlier testing, the SBL600 was subjected to a Type approval sideload test which ensures compliance with ASME B30.1, an important industry standard that covers heavy lifting equipment such as hydraulic jacks, hydraulic gantries and strand jacks.
Tom Eggert, Global Product Manager, Enerpac Heavy Lifting Technology, commented: "All our lifting systems are subject to a rigorous testing regime. ensuring safe and compliant equipment for demanding machine moving and industrial applications.
"We apply the same level of rigor to both our new systems and those we refurbish. Our commitment to safety is also reflected in the SBL600 design."
As standard, the SBL600 includes Enerpac Intellilift wireless controls providing users with a safe and reliable way to operate the gantry. With no cables, there are no tripping hazards or risk of incorrect connections. Built-in safety alarms are included to alert operator of unsafe conditions and stop gantry operations. Moreover, each gantry leg has a built-in hydraulic pump which eliminates trip hazards by removing the need to connect hoses and makes the equipment easier to set up.
In addition to ASME B30.1, the Enerpac SBL600 gantry complies to CE, UKCA and other safety standards. Accessories for the SBL600 include header beams, skid track and side shift units to shift a load along header beams utilising the Intellilift wireless controls.
https://www.linkedin.com/company/enerpac/
---