The latest benefits of overmoulded solenoid valve connectors
23 June, 2022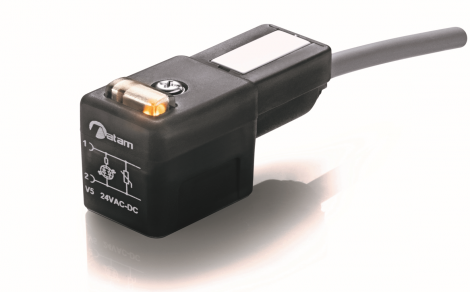 Form B solenoid valve connector with moulded cable.
Solenoid valve connectors are now available with control circuits providing additional tangible benefits to OEM design engineers and end customers' maintenance engineers. Connectors with LEDs can save engineers vital time by providing immediate feedback regarding real time voltage status, and thereby the correct functioning of the solenoid valve. Without such a fast, visual indication, time may be lost investigating other potential error causes.
Simplified installation also saves the engineer time as the end terminal section of the cable is available with a range of connectors, such as Y-shaped for split commands, with either M8 or M12 end connectors, or quick fit plug-in connectors. Overmoulded solenoid valve connectors, including flying leads, also benefit OEM's and end users by completely eliminating human error that may occur with a manually wired equivalent.
Enhanced system life and reduced cost of ownership
With the new configurations now available, system life is also enhanced and therefore cost of ownership reduced, by protecting the load and control electronics. When the coil is de-energised voltage peaks may occur, but these are dampened with the use of varistors or Transil diodes. Finally, the integrated rectifier bridge transforms the current from alternating to direct. The evolution of ATAM's range also includes IP69K protection class, making them suitable for a wide range of applications, specifically where regular intensive cleaning is required.
OEM design engineers and end-user maintenance engineers can also make good use of integrated identification labels and external recognition pad printing, for circuit and voltage classification. Further customisation of solenoid valve connectors is possible in terms of the cable used. For example, an application may benefit from a specific cable length, style, colour and materials, including flameproof cable, shielded cable and halogen free cable options.
Engineers specifying solenoid valve connectors, even those with the most unusual application requirements, can have total confidence their solution will perform as required, through design simulation. As a developer and manufacturer of both encapsulated coils and industrial connectors, ATAM can simulate the combined use of the two products, in all conditions.
https://www.linkedin.com/company/atam-spa/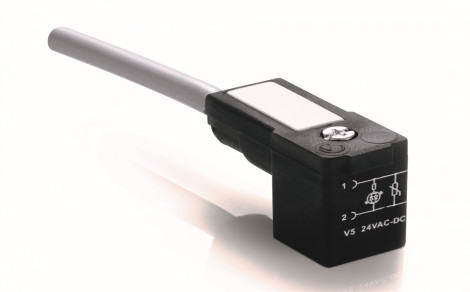 Form C solenoid valve connector with moulded cable.
---