Get ready for our industry's biggest event
31 March, 2022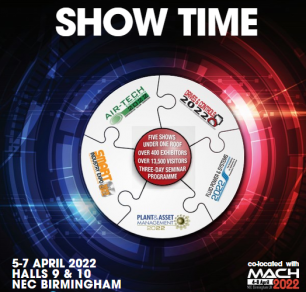 Taking place from 5 to 7 April at the NEC in Birmingham, the 2022 co-location of events – Fluid Power & Systems, Air-Tech, Drives & Controls, Smart Industry Expo, and Plant & Asset Management – promises to be organiser DFA Manufacturing Media's biggest, most content-rich and widely attended outing to date.
Fully supported by the British Fluid Power Association (BFPA) and Hydraulics & Pneumatics magazine, Fluid Power & Systems offers the largest gathering of leading companies from around the world displaying and demonstrating the latest innovations in mechanical and electromechanical equipment. Whatever your industrial sector, whether engineering, construction, offshore/marine, oil & gas, agriculture/farming, automotive, aerospace etc, Fluid Power & Systems – with free entry for visitors – offers a convenient one-stop shop for all your fluid power and system requirements, including:
Hydraulics: industrial and mobile, including pumps and power packs, cylinders, valves, motors, heat exchangers, and accumulators, filters and sealing technologies.
Pneumatics: valve and valve islands, linear and rotary actuators, air motors, FRLs and other treatment technologies.
Systems: Electro-hydraulic & pneumatic systems design; CAN bus technology; process automation; monitoring & control; modelling & simulation.
Instrumentation: Sensors, switches and controls as applied to fluid power: Temperature, flow, pressure, liquid level, position.
Air-Tech – fully supported by the British Compressed Air Society (BCAS), together with Hydraulics & Pneumatics and Plant
& Works Engineering magazines – will again cover the very latest in compressed air, vacuum and generators from the UK's
largest gathering of world-class companies. Visitors to Air-Tech will be able to see a wide range of equipment and solutions, including the following:
Accumulators, actuators, air delivery systems and air motors.
Compressors, cooler tools and cylinders.
Vacuum systems and generators.
Displays & meters.
Filters, fittings, heat exchangers and hoses.
Instruments, lubricators, manifolds and mobile compressors.
Pumps, regulators, sensors, software and valves.
Talking Industry Live
This year will also see the introduction of a physical version of DFA Manufacturing Media's popular panel discussion series, Talking Industry. As well as continuing in its now firmly established format, the NEC event will see the series' expansion from the digital sphere to live panel discussions under the Talking Industry Live brand.
Knowledge Hub
Also, returning for the first time in four years will be the highly popular Knowledge Hub. With a strong emphasis on technology, the Knowledge Hub will bring together all aspects of hydraulics, pneumatics, robotics and automation, plant and asset management, energy efficiency, machine safety, drives, motion control, legislation, system strategies and technological developments. It will feature representatives from across industry, including government agencies, research bodies, trade associations and manufacturers.
Moving ahead
Ryan Fuller, managing director, DFA Media Ltd, comments: "There is an almost palpable feeling in the air that every industry segment represented by our exhibitions is champing at the bit to move forward at pace in the wake of all the business and operational hurdles we have faced collectively over the past couple of years. And there is indeed much to embrace in terms of innovative and technologically advanced solutions and services ready to play an important part within your own organisations' development roadmap - things that can give you a tangible competitive edge and translate into positive business growth."
---